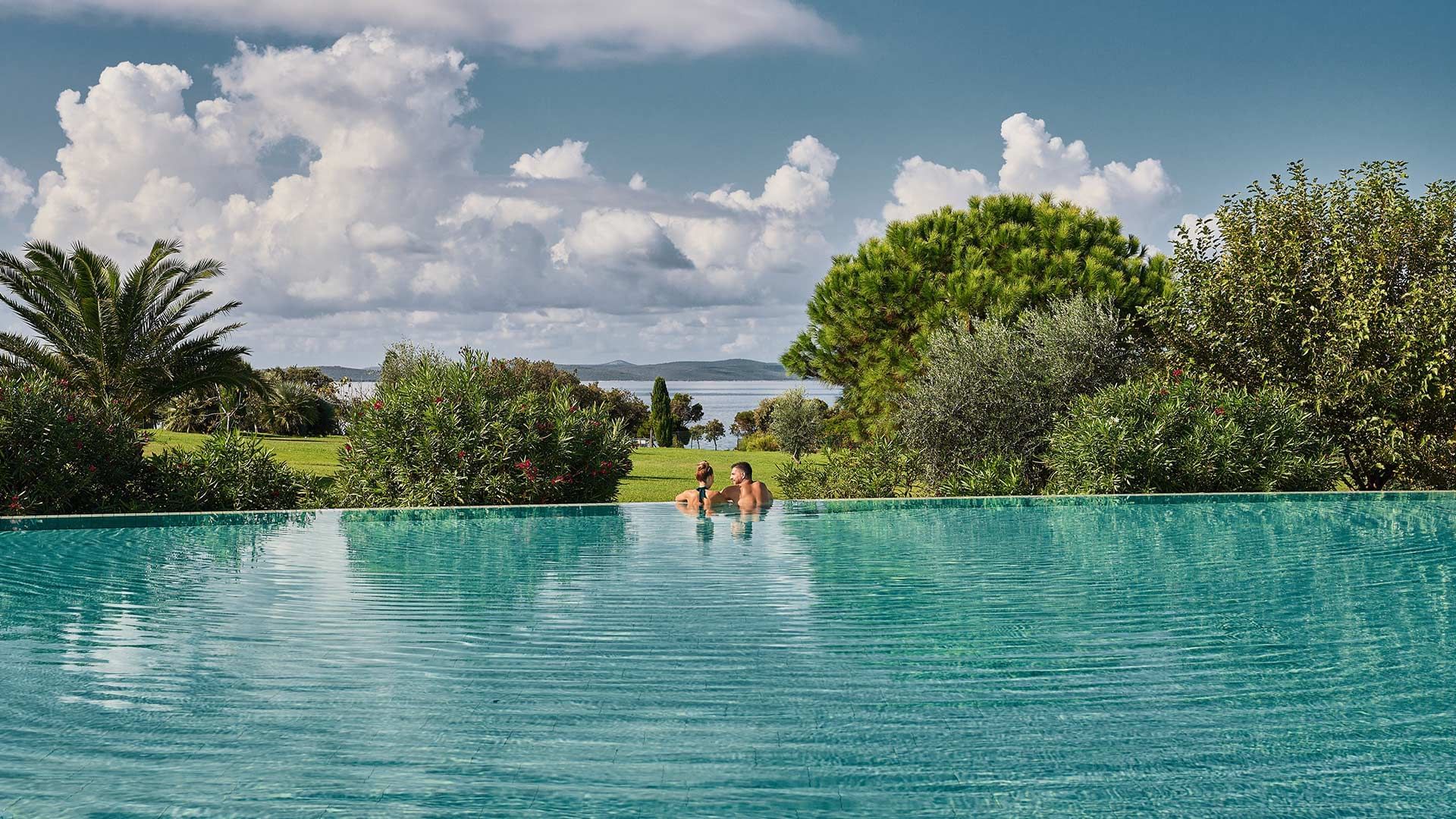 A Croatian adventure.
Exclusively yours.
Explore The Coastline
Croatia is known for its gorgeous coastline, with over 1,000 islands. Crystal clear sea, picturesque landscapes, enchanting architecture and countless hours of sunshine per day make Croatia a heavenly destination for relaxed beach vacations on the Mediterranean Sea.
Along the coast of Punta Skala resort there is a beach section with natural pebbles including some hidden and secluded platforms for easy access to the sea, where families can relax all day long. Our own created sandy beach in front of Hotel Diadora is specially made for our young guests, where they can enjoy the beautiful Croatian sea in a quiet environment. The many pine trees provide shade and in our hammocks you can comfortably work on a nice summer tan.
Pure relaxation
at Hotel Iadera
After a luxurious breakfast in our restaurant "Jadran" you can find a sunny spot right by the sea just a few steps away. If you prefer some more shade, you can rest under one of the many pine trees along the promenade. Alongside the beach you will discover different little hideouts among rock formations, where you can spend a relaxing day on our sun loungers. If you love sea water but prefer to swim in the pool, we can offer you the perfect compromise with our indoor/outdoor saltwater pool "Thalasso". Our second indoor/outdoor pool is equipped with underwater massage chairs and our infinity pool offers a magnificent view, while our whirlpools provide perfect moments of relaxation.
Fun and entertainment
for the whole family at hotel Diadora
Numerous pools, a big slide and a cool water world will let your childrens' creativity run wild while they can play around as much as they like. In the meantime, parents can either sit back in the hotel lounge with ice-cold cocktails and enjoy the sight of their happy children or collect memories together with the little ones.
Quiet and tranquility
in the apartments Senia
For those who are looking for relaxation and tranquility, numerous hidden and more secluded areas with sea access offer the possibility to relax on the beach all day long. You can work on a healthy tan while you unwind in a hammock in the shady pine forest right by the water.
Those who like to have the perfect pool position will also enjoy the outdoor area of the apartments Senia - whether swimming in the two outdoor pools or sunbathing comfortably under shade providing umbrellas.