Culinary in Mariánské Lázně
Modern balance vital cuisine with refinement
Our guests are spoiled daily by the wide range of delicate dishes, without losing sight of the principles of contemporary nutrition. In our restaurant you can expect first-class service in a modern, atmospheric and relaxed ambience. The Library Bar follows this (culinary) claim and offers delicious tapas as well as Afternoon Tea with small desserts. In addition, interesting cocktail variations are presented here, which create an atmospheric flair with the extraordinary interior of the bar and library. Experience true moments of pleasure that will appeal to all your senses.
Balance vital cuisine - health-conscious cuisine with fresh, regional ingredients
Enjoy your vacation according to your wishes! Individual catering options selectable: Full board, half board or with breakfast only
Falkensteiner full board includes a rich breakfast with dishes prepared á la carte in the open kitchen, the Good4U lunch at lunchtime and a 5-course dinner
Multifaceted selection of small dishes & desserts as well as a variety of deliciously prepared drinks in the Libary Bar (including liqueurs from medicinal plants - Becherovka, Tatratea, herbal liqueurs)
Show kitchen for á la carte prepared dishes
Culinary variety with regular theme nights, e.g. Raclette or Fondue Night
Wholesome and at the same time indulgent nutrition is an essential factor of holistic well-being. Since we at Falkensteiner Spa Resort Marienbad take a holistic approach to maintaining your health, we also pay attention to the highest quality in our cuisine. This results in our concept of Balance vital cuisine, which enters into a liaison of the following four components:
Regionality
We attach great importance to locality and careful cultivation methods, so we always source seasonal food from Czech farms. Many of our products are made exclusively for the hotel.
Naturalness
Freshly harvested, rich in vitamins and without artificial flavors - this is how the ingredients in our kitchen must be. We completely avoid the use of processed foods and make sure to prepare dishes with whole grain flour and without refined sugar.
Quality standard
High-quality food is the be-all and end-all of our cuisine. We place great value on certified cultivation and proven food from the animals we source. Our focus is on vegetables and vegetable proteins, cooked with a variety of seeds, nuts and legumes.
Cooking methods
To best preserve nutrients and flavors, we use gentle cooking methods. Sous Vide & low temperature cooking, grilling, steaming and wok cooking as well as just in time production and avoidance of waste are part of our mindful and sustainable approach.
Dietary habits
Indulgence for all diets
The Falkensteiner Hotels & Residences are geared to cater to the special dietary habits of their guests. Of course, we take your needs into consideration and conjure up delicacies to your taste in our kitchens. Whether vegan or vegetarian diet, gluten-free or low carb - with us you are in good hands with your demands: Morning, noon and evening.
Please inform us already in the course of your booking, but in any case shortly before arrival, about your special dietary habits.
A culinary experience throughout the day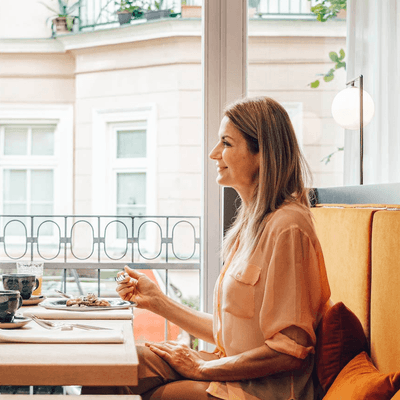 Healthy, regional ingredients are at the heart of our culinary philosophy, designed to contribute to your holistic well-being.
Read More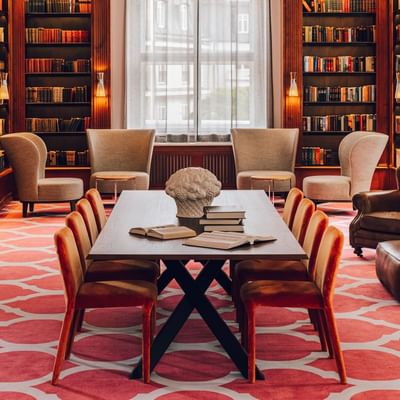 Following a relaxing day or an eventful excursion, you can wind down the day in our lobby bar, where you can enjoy live music, classic cocktails and a charming atmosphere.
Read More
Breakfast
Monday to Friday: From 7 to 10.30 AM
Saturday and Sunday: From 7 to 11 AM
Good 4U Lunch
Daily: From 12 to 1.30 PM
Dinner
Daily: From 6 to 8.30 PM
Library Bar
Sunday to Thursday: From 11 AM to 11 PM
Friday and Saturday: From 11 AM to 12 AM