LOCATION & Contact
Plan your Trip to the Falkensteiner Spa Resort Mariánské Lázně
Located close to the German-Czech border at the edge of the Emperor's Forest near Regensburg. Get the most convenient route to access to our wellness hotel in Karlovy Vary. Motorway junction: 20 km (uninterrupted motorway access to Prague, Munich, Regensburg, Berlin), rail station: 2 km, international airport: 170 km
FALKENSTEINER Falkensteiner Spa Resort Mariánské Lázně
FROM THE SOUTH
A9 and A93 towards Regensburg – A93 towards Cham, Weiden – at the Oberpfälzer Wald motorway interchange leave the A93 and join the A6 – at Waidhaus border crossing leave the A6 and join the D5 – leave the D5 and at the Bor junction (128) head towards Cheb, Planá, Tachov, Mariánské Lázně on the 21 – in Chodová Planá leave the 21 and join the 230 – then take the 215 to Marienbad (Mariánské Lázně)
FROM THE NORTH
A9 towards Munich – at the Bayerisches Vogtland motorway interchange take the A72 towards Regensburg – at the Hochfranken motorway interchange take the A93 towards Regensburg, Prague/Praha – Selb-Nord junction (8) − St2179 – St2178 – B303 – border an the 6 – then the 21 – in Velka Hledsebe turn off to Marienbad (Mariánské Lázně)
FROM THE EAST
A1 towards Linz − at the Haid interchange take the A25 towards Passau − at the Wels interchange take the A8 towards the Austrian/German border − at the border take the A3 to Deggendorf motorway interchange − near Regensburg take the A93 towards Cham, Weiden − at the Oberpfälzer Wald motorway interchange leave the A93 and join the A6 – at Waidhaus border crossing leave the A6 and join the D5 and at the Bor junction (128) head towards Cheb, Planá, Tachov, Mariánské Lázne on the 21 – in Chodová Planá leave the 21 and join the 230. Then take the 215 to Marienbad (Mariánské Lázne)
Till Mariánské Lázne (Marienbad) – ca. 2 km
We will be happy to arrange your transfer to Marienbad in cooperation with our partner agency.
YOUR ADVANTAGES
Pick-up at home, including luggage service and a direct transfer to Falkensteiner Hotel Grand MedSpa Marienbad
Changing trains not required
Safe and fast with a German-speaking driver
Optimised break times
Sample prices (1 to 7 persons per bus) for a return trip. Please contact us for prices to any other cities.
Augsburg | € 480
Berlin | € 1000
Dresden | € 586
Frankfurt | € 976
Munich | € 659
Nuremberg | € 464
Stuttgart | € 915
Zwickau | € 317
The transfer price is paid directly to the driver!
If you have any questions, please e-mail us at marienbad@falkensteiner.com or call +420 352 2003 50. We will be happy to advise you.
Premium car rental from SIXT
Discover Austria, Italy, Croatia, Montenegro, Serbia, Slowakia, Czech Republic and Germany with our summer promotion and up to 10% discount. Save up to 10% discount and enjoy excellent services with Sixt
Booking & Rental period: January 1st until December 31th, 2023
Length of rent 2-27 days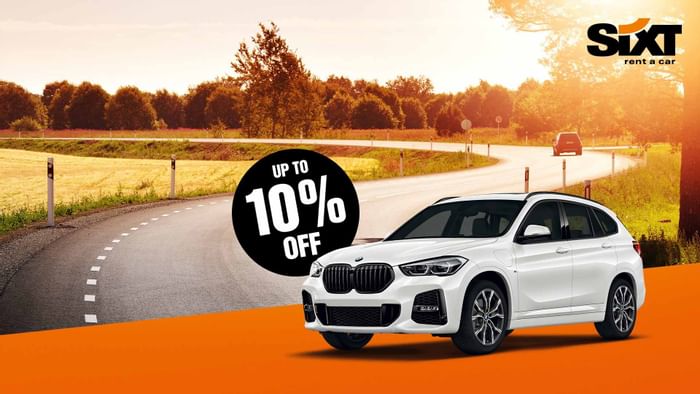 Falkensteiner Transfer Service
Easy and convenient transport from the airport to the hotel
Whether from the airport or from the train station: request our transfer service for your individual pick-up.