Carinthian delicacies with Mediterranean influences
Enjoy regional quality products and well-known favourite dishes of young and old
Anyone who experiences a lot, spends the whole day discovering, splashing around and playing, or taking part in exciting adventures in nature, needs enough energy. From morning to evening, we provide you with delicious regional and healthy refreshments during your family holiday - with the variety of traditional Carinthian dishes with popular international classics such as pasta, pizza & ice cream, there is something for everyone!
Falkensteiner full board
Rich breakfast buffet with regional products
Lunch buffet with hot and cold dishes
Afternoon snack at the bar
Dinner with extensive menu choice & children's buffet
Juices at the children's juice bar and ice cream in Falky Land included
Summer season: Drinks (wine, beer, juices and water) included at lunch and dinner in the restaurant.
Carinthia's culinary arts meet international favourites
What do Carinthian Kasnudeln, spaghetti bolognese and soft ice cream have in common? All these delicacies delight young and old alike, taste forbidden good and are a fixed part of our buffet and menu. Our culinary concept is based on grandma's traditional cuisine and quality products from the region, while at the same time we make use of international influences and the most popular dishes from our Mediterranean neighbouring country to offer you a varied food experience. In the course of our enjoyable full board, you can expect varied gourmet buffets made of healthy ingredients and nibbles that are simply part of a holiday, from early morning to late at night.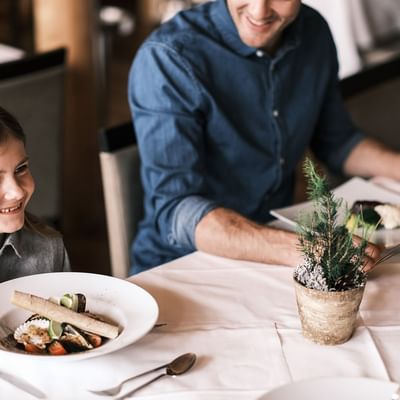 Breakfast, lunch and dinner take place in our cosy, family-friendly hotel restaurant. We offer a rich variety of tastes so that young and old alike get their money's worth.
Read More
Breakfast buffet
daily from 7.30 a.m. to 10.30 a.m.
Lunch
daily from 12.00 p.m. to 2.00 p.m.
Active snack
daily from 3.00 p.m. to 4.30 p.m. (hotel bar)
Dinner
daily from 6.00 p.m. to 8.30 p.m.
Bar summer season
daily: 12.00 p.m. to 11.00 p.m.
Winter season
daily: 10.00 p.m. to midnight