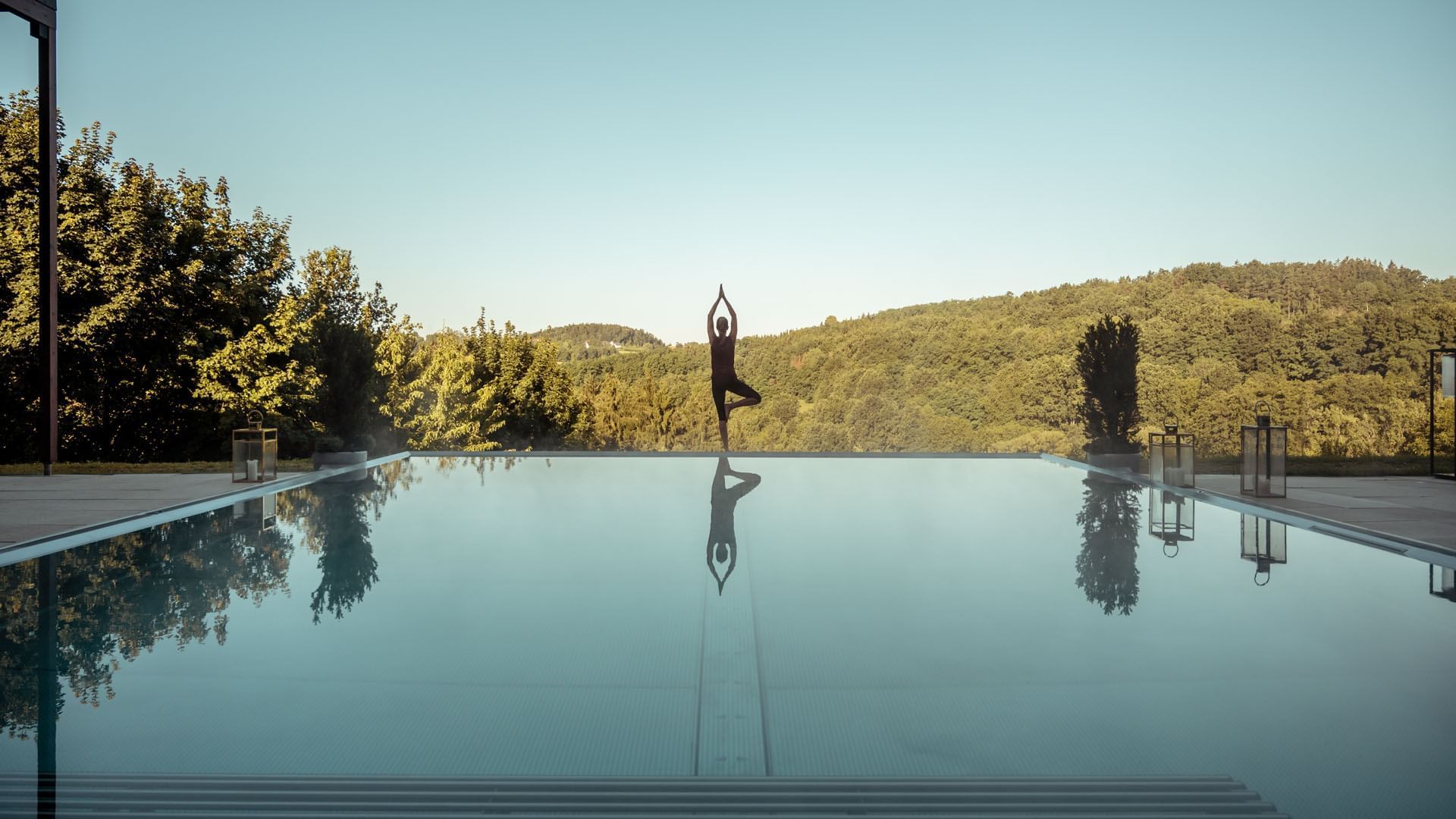 Body & Energy Health Retreat
Yoga. Bodyforming. Prevention.
7 nights regeneration & health program with body diagnostics
Increased, long-lasting performance, inner balance and optimized stability in order to be able to deal with the daily confrontation of the required high level of performance in work and private life. A frequently seated posture and little movement lead to a restricted musculoskeletal system and this in turn reduces the overall state of health. The lack of mobility of the body (outer posture) is also an expression of insufficient access to oneself and the inner center (inner posture). Preventive action brings body and mind into harmony, ensures inner balance and enables holistic well-being in everyday life.
In addition to a sports science analysis of the entire musculoskeletal system, there is a comprehensive medical health check including vital substance analysis, a detailed bioelectrical impedance analysis (BIA) and a heart rate variability measurement (HRV measurement).
Through sports science processes and yoga exercises, blockages are balanced and movement and mobility are restored. This serves as the basis for long-lasting health and mobility and is sustainably supported by individual supplementation with vital substances and vitamins. In addition, you learn to control your own vegetative nervous system through meditation and breathing techniques as well as attention regulation and thereby gain access to your own body and self.
Included package services in detail
Measurement of the vegetative nervous system (HRV short-term measurement)
Body measurement (BIA: fat-muscle-water)
Analysis of the musculoskeletal system
Health check with blood sample (blood laboratory)
Vital substance analysis
Evaluation & medical coordination discussion
Medical transfer to check out
1x Ayurveda full body massage (75 min.)
1x Balance Signature Ritual (60 min.)
2x personal coaching (50 min. Each)
2x personal yoga therapy (50 min. Each)
1x magnesium bath with aromatherapy in the room
1x Ayurveda bath in the room
Welcome talk with the competence team on the day of arrival
Individually tailored healthy nutrition on a metabolic and Ayurvedic basis
5x relaxation, balance or activation according to the HRV analysis
Daily workshops and impulses on the subject of health
Daily use of the Acquapura SPA with ritual infusions
2x briefing on fitness / coordination / strength / flexibility
1x cooking class (90 min.)
From 2.422,00 € for 7 nights in a junior suite including full board on a metabolic basis.