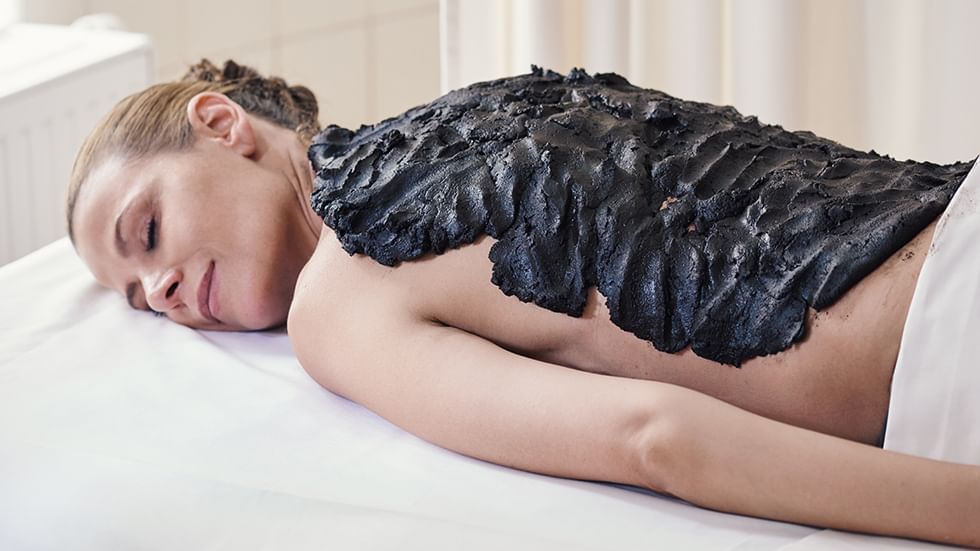 Water, earth, forest and air are the four elements on which the healing methods of the spa town of Mariánské Lázne are based. Long before Mariánské Lázn was designated a spa town in 1818, the local population recognized the beneficial effects of these natural remedies. At Falkensteiner Spa Resort Mariánské Lázn, we carry on this tradition and treat our guests to the power of the earth. Free CO2 bound in the springs is used for many medical applications. The peat bog taps valuable nutrients compressed over thousands of years.
Individual medical examination
Accompanying medical examinations are the basis for a successful treatment program.
ECG
Laboratory values
Laboratory findings together with other diagnostic procedures enable precise treatment plans.
Spirometry
Measurement and recording of lung capacity and airflow velocity.
Insulin check
A quick and reliable measurement of blood glucose levels.
Vital Monitor® Measurement and Consultation
This device enables the analysis of the resting state of the body. The effects of stress therapies and mindfulness exercises can already be measured during the stay.
Pneumopuncture
This is a combination of subcutaneous CO2 injections administered into Acupuncture points and targeted massage to deepen the effect.
Classical Acupuncture and Ear Acupuncture
Acupuncture is supportive for weight loss, allergies, blockages, musculoskeletal problems and Migraines.
Colon Hydrotherapy
Support and stimulation of intestinal activity, reorganization of intestinal flora and strengthening of the immune system, as well as support for allergy therapies.
Chiropractic mobilization
To improve joint function, minimal force is applied manually to the affected joint. It is gently moved beyond its normal range of motion and strengthened.
Aslan Cure
This cure has a very positive effect on reduced physical performance, poor concentration and memory, and circulatory disorders. It consists of a series of daily injections.
Mineral Baths
Baths in our own Alexandra Spring are one of our specific Marienbad treatments. The high content of free CO2 gives the water its healing powers. The gas is absorbed through the skin and dilates the vessels. This treatment leads to the improvement of the vegetative functions of the organism and has a relaxing effect on the whole musculature. The bath has a blood pressure lowering effect and leads to pleasant fatigue.
Mud Baths
Mud Baths are ideal for the treatment of chronic inflammation of the musculoskeletal system and for the relief of rheumatic complaints.
Optionally, a Mud Bath can be enriched with a dose of Colloidal Silver. This acts as a natural antiviral for the skin and helps with allergic reactions of the skin.
Pearl Bath
This is a very gentle bubble bath. It stimulates blood circulation and causes physical and mental relaxation.
Hydroxeur
This soothing fine flow massage with 230 air massage glands relaxes the whole body. Together with the buoyancy of the water, it leads to relief of the joints, stimulation of the circulation and also helps with functional nervous disorders as well as Arthrosis.
Underwater Massage
Underwater Massage involves massaging with a pressurized jet from a water hose. Due to the deep effect of the water on the vessels and the muscles, the blood circulation is stimulated and tensions are released. Body and mind are brought into harmony and the body feeling is revitalized in the long term.
ScottishShower
A jet of water with alternating cold and warm water is directed at the body from a distance of 3-4 meters. The Scottish Shower helps to improve the immune system, blood circulation and metabolism, leaving a general feeling of vitalization.
Mud Pack
We use natural Moor from the surroundings of Marienbad, which is rich in minerals and numerous ingredients. Combined with high heat retention, applications with mud not only promote blood circulation but also accelerate the regeneration process. The slowly increasing warmth has a deep effect into the body, stimulates the metabolism and relaxes the muscles. The Mud Pack is often used to accompany the massage of hardened muscles and cares for especially stressed and dry skin.
Fango Wrap
Local heating with the natural active ingredients of the Fango-Peloid. Joints and muscles are relaxed, blood circulation is stimulated. Fango is an ideal preparation for a deep massage.
Lavatherm
A mud heat carrier for local application.
Kerosene Wrap
Specific heat therapy for joint and abdominal complaints.
CO2 Injection
A small dose of CO2 administered subcutaneously can work wonders - especially for inflammation of the joints and spine. This injection increases local blood flow, relieves pain and improves metabolic processes.
Dry CO2 Bath
CO2 gas is absorbed through the skin and dilates blood vessels. This not only improves blood circulation, this treatment also has an anti-inflammatory effect, accelerates the healing of wounds and positively affects kidney function. In addition, CO2 stimulates the production of sex hormones and is suitable for both women and men.
Dry CO2 Bath with Oxygen Inhalation
The dry CO2 Bath can also be combined with Oxygen Inhalation to deepen its effect
Forest Spring Inhalation
The water of this spring helps to clear the respiratory tract and dilates the bronchial tubes. It is used both for inhalation and drinking cure, if necessary and according to a doctor's prescription also with additional medication.
Oxygen Therapy
Concentrated Oxygen is inhaled. This increases the concentration of Oxygen in the blood, which provides the body with more energy. This strengthens the immune system and improves neural performance .
Manual therapy
Lymphatic Drainage
This gentle treatment stimulates the lymphatic system and metabolism, has a detoxifying effect and is helpful in reducing swelling.
Physiotherapy
Individualized physiotherapy aimed at keeping joints, ligaments, muscles, bones and nerves healthy. Chronic and acute complaints can be treated and alleviated in a targeted manner.
Connective Tissue Massage
Remote effects on internal organs are achieved via nerve stimuli and reflexes.
Physical Therapy
Electrotherapy
Current impulses support the therapy of diseases of the musculoskeletal system. Electrotherapy can also help to build up weakened muscles.
Pulsating and Static Magnetic Field Therapy
Magnetic Field Therapy stimulates blood circulation and increases oxygen supply to the tissues. Healing processes are accelerated.
Laser Therapy
Laser Therapy is used for treatment of pain, swelling, degenerative joint and spine diseases.
Local Cryotherapy
A type of cold therapy in which a part of the body is exposed to very low temperatures for a short time. It is used for the treatment of musculoskeletal disorders, metabolic disorders, for the immune system or for skin diseases.
Microwave and Short-Wave Diathermy
Heat is generated in body tissues by high-frequency Electromagnetic Fields or Currents. This method is used for Pain Therapy, treatment of Arthrosis, chronic Polyarthritis, rheumatic diseases or muscle strains and for stimulation of blood circulation.
Ultrasound
Ultrasound has anti-inflammatory and analgesic effects, can be used for acute Sciatica and helps with muscular tension, Arthrosis, Neuralgia, "Tennis Elbow" and Hematomas. Scars become more supple, lymphatic activity is stimulated.
Shock Wave
Shock Wave Therapy can not only dissolve calcifications, but also treat Tendonitis or promote the healing of bone fractures. The treatment generally accelerates the healing process in tissues through the formation of the body's own messenger substances.
Lymphoven
A mechanical Overpressure Massage that activates the lymphatic flow and helps to remove the accumulated waste products of metabolism.
Classic Therapeutic Massage
Gently relaxes tension and promotes blood circulation to the muscles.
Foot Reflexology
Acts locally to intensively promote circulation while stimulating organ and tissue functions.
Head and Neck Massage
Serves to relieve tension and discomfort in the head and neck.
Head Massage
Helps relieve headaches and provides relaxation. During the treatment the forehead, temples and ears are gently treated.
Cupping Massage
The negative pressure of the Cupping Glasses gently activates blood circulation, lymph flow and metabolism, the muscles are loosened and relaxed.
Dorn-Breuss Massage
Vertebrae and joints are carefully and ideally placed with little pressure.
Myofascial Massage
The connective tissue (fascia), can harden as a result of lack of movement or stress. This massage loosens/relieves hardening and circulates blood.
Drinking Cure is an integral part of every cure. One must be aware that it is a healing procedure and should not be done without medical supervision.
Alexandra Spring
Our own Alexandra Spring is the core of our comprehensive health offer in the form of Drinking Cures and Bathing Treatments. It is very rich in iron and should be drunk in controlled quantities. A Drinking Cure is suitable for digestive complaints, but should not be carried out without medical supervision.
Rudolf Spring
Is recommended especially for inflammatory diseases of the urinary tract. Due to the high content of magnesium, it is very suitable for people suffering from Osteoporosis. Magnesium is also excellent for optimized nerve, heart and muscle function and is also a natural antioxidant.
Forest Spring
Although the Forest Spring is more suitable for Inhalation, it is also used for Drinking Cure. It is recommended for respiratory problems, diseases of the kidneys and urinary tract and the digestive system - as always after medical consultation.
Ferdinand Spring
The Ferdinand Spring is the oldest mineral spring in the Mariánské Lázn area documented in writing. It is used for a Drinking Cure mainly for the treatment of the digestive tract and metabolism.
Cross Spring
Is a strongly mineralized water. This spring is used for the treatment of the digestive system and supports the functions of the gall bladder, liver and pancreas.
Caroline Spring
The Caroline Spring has a higher magnesium content and is used for various urological and nephrological diseases, especially for the treatment of Kidney Stones. It is also suitable for supportive treatment of Diabetes 2 and Gout. It has other beneficial effects on muscle slackening and musculoskeletal pain.
We would be happy to advise you in detail by phone or email to find out which health program suits your individual needs.
Our team looks forward to your inquiry.
Tel.: +420 354 929 369