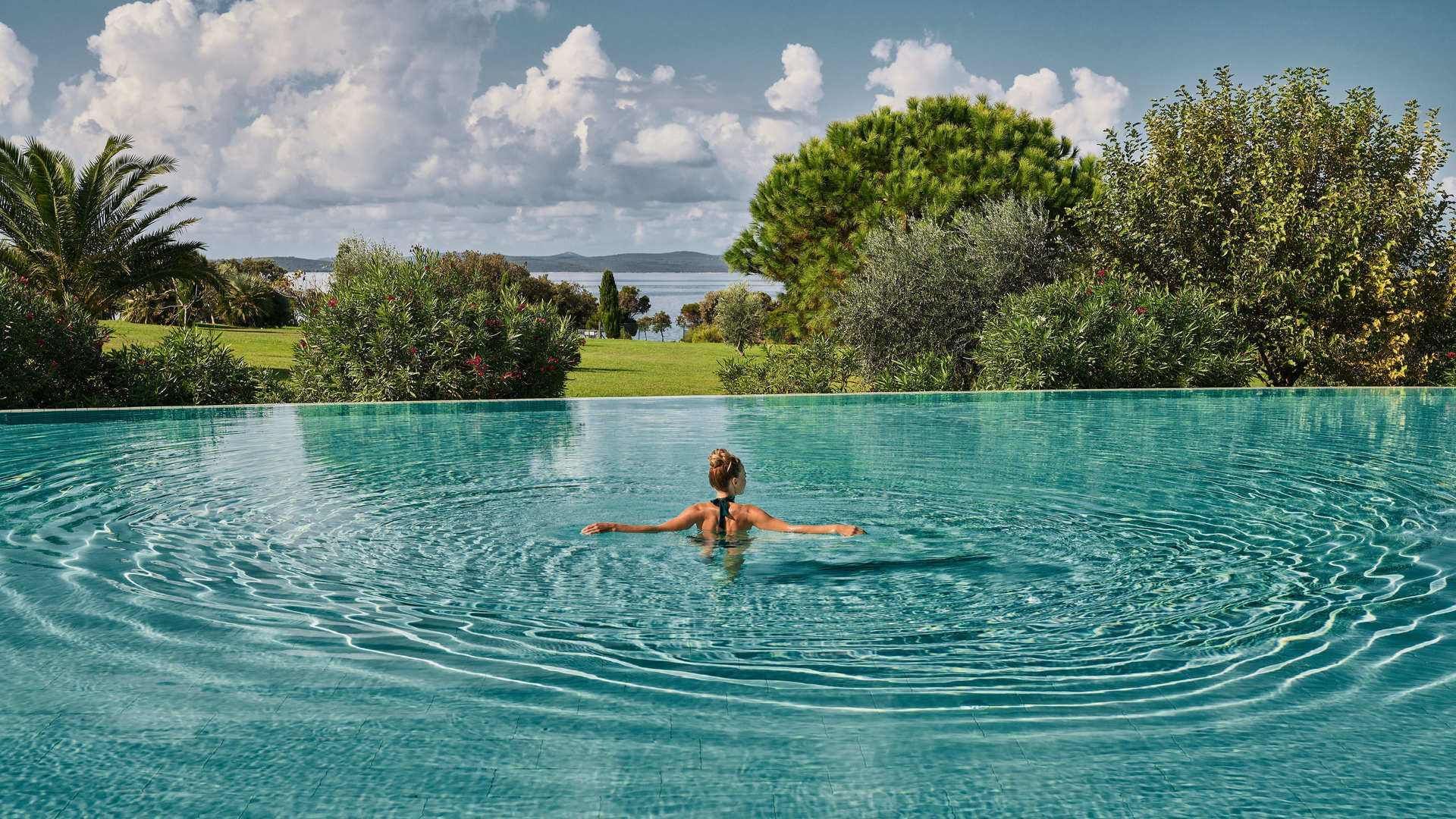 Pools & Beach
Relaxation beyond infinity
After a hearty breakfast at our hotel, you'll find a cosy seaside retreat just a few steps from the terrace. If you crave picnics and relaxation in the shade, the cool pine forest along the promenade is your perfect spot. Discover wonderful little retreats, hidden behind reefs, where you can enjoy your sun loungers for free!
Peace and Harmony
Relaxation with a fresh sea breeze
If you love swimming in the sea but don't want to leave the comfort of a pool, our Thalasso indoor and ourdoor pool with salt water is just what you need. Our second indoor and outdoor pool pampers you with underwater massage loungers, while our infinity pool gives you the best view and several whirlpools ensure total relaxation. Our sun loungers and umbrellas in the outdoor relaxation areas around the pools are surrounded by olive trees and Mediterranean herbs and make for a unique sunbathing experience. Of course, we will also be happy to provide you with refreshments, fruit and small snacks at your seat.
Infinity pool
View to the open sea
Swim to the edge of our infinity pool and feel as if you are swimming from one Adriatic island of the Zadar Channel to another. This droplet-shaped pool is the largest in all of Iadera*****. In the center of the pool, you will also find our popular paved path - walking on it feels like walking on water. The perfect Insta spot! Pamper yourself with hydromassages for the neck and shoulders at the end of the pool!
Indoor and outdoor pools
The perfect spot for enjoying the sunset
The two indoor and outdoor pools in our White Spa are heated and therefore particularly popular in spring, winter and autumn. With a pool filled with salt water that lets you enjoy all of the water's health benefits and one filled with filtered, desalinated seawater, there is something for everyone. Underwater hydromassage loungers allow for ultimate relaxation.
Shallow pool
Charming non-slippery pool for toddlers
In the small, rounded, shallow pool in our our White Spa, our younger guests can splash around safely. The surrounding sun loungers and its proximity to the changing rooms make this the ideal place for parents travelling with young children. This way, your little ones are safe under your care while you get to enjoy the view of the islands and the sea.
Hammam pool
The heart of our Black Spa
The warm black stone, oriental ornaments and subtle candlelight surrounding the pool create a cosy, mystical atmosphere that provides a unique feeling of relaxation - oriental flair in the middle of Dalmatia. Let our warmest pool transport you to another sphere!
Magnificent beaches
Sun, sea and serenity
If nothing beats a dip in the open waters for you, you're sure to find your personal favourite spot in the pebble beach bay of Hotel & Spa Iadera. To improve your stay even further, stroll along the beach promenade or find your own private sanctuary behind the reefs.