Via Carnica
The culinary delights of the Carnic High Trail
The Carnic High Trail, the Via Carnica, stretches over eight stages, 9,100 metres in altitude and a length of 155 kilometres. On this trail you walk along the border between Austria and Italy - with magnificent panoramas from the Großglockner massif to the Dolomites. Here, the countries harmoniously combine with their traditions and special features, which we would like to reflect in our culinary orientation.
The indulgence trail brings forth intense impressions of pure beauty: between stony peaks, gentle alpine pastures, rushing streams and deep forests, you will find powerful flavours that vary according to region and season. Discover with us the interplay of Carinthian cuisine with the culinary highlights of Italy and let us take you on a journey into the precious mountain world.
Rich breakfast buffet with market stall incl. selection of seasonal fruits & vegetables for smoothies
Late riser breakfast daily from 10-11 AM at the bar
Active Table in the afternoon
6-course dinner menu of choice, partly from buffet
Selection of gluten-free, vegan & vegetarian dishes
Hotel bar with sun terrace
Via Carnica
A Culinary Liaison of Carinthia & Italy
The mountain world has so many specialities to offer, especially along the enjoyment path of the Carnic High Trail. Let the most popular delicacies of Carinthian cuisine and the Mediterranean culinary delights of Italy melt in your mouth. Here you can taste pure joie de vivre, a passion for quality and a love of indulgence.
Those who are active in the mountains during the day need wholesome, nutritious food. We provide you with high-quality products from our Slow Food partners, such as Joseph bread or honey from the Carnica bees, right from breakfast. Add to this fresh juices and an alpine omelette, and the day can get off to an enjoyable start. In the course of the half-board plus, a tasty summit snack awaits you at the buffet in the early afternoon. In the evening you can choose your dinner à la carte and from the buffet - an extensive wine list underlines the regional delights.
Dietary habits
Indulgence for all diets
The Falkensteiner Hotels & Residences are geared to cater to the special dietary habits of their guests. Of course, we take your needs into consideration and conjure up delicacies to your taste in our kitchens. Whether vegan or vegetarian diet, gluten-free or low carb - with us you are in good hands with your demands: Morning, noon and evening.
Please inform us already in the course of your booking, but in any case shortly before arrival, about your special dietary habits.
Restaurants & Bar
The culinary link between austria and Italy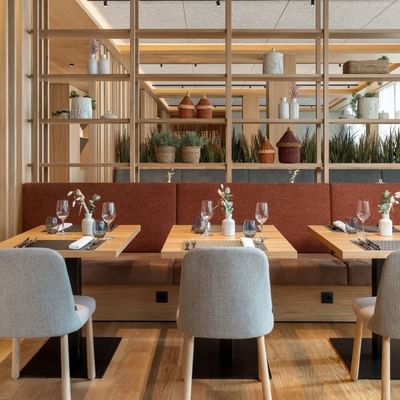 Active Breakfast
07.00-10.00 a.m.
Active Table
02.00-04.00 p.m.
Dinner
06.30-09.00 p.m.
Bar
10.00 a.m.-midnight