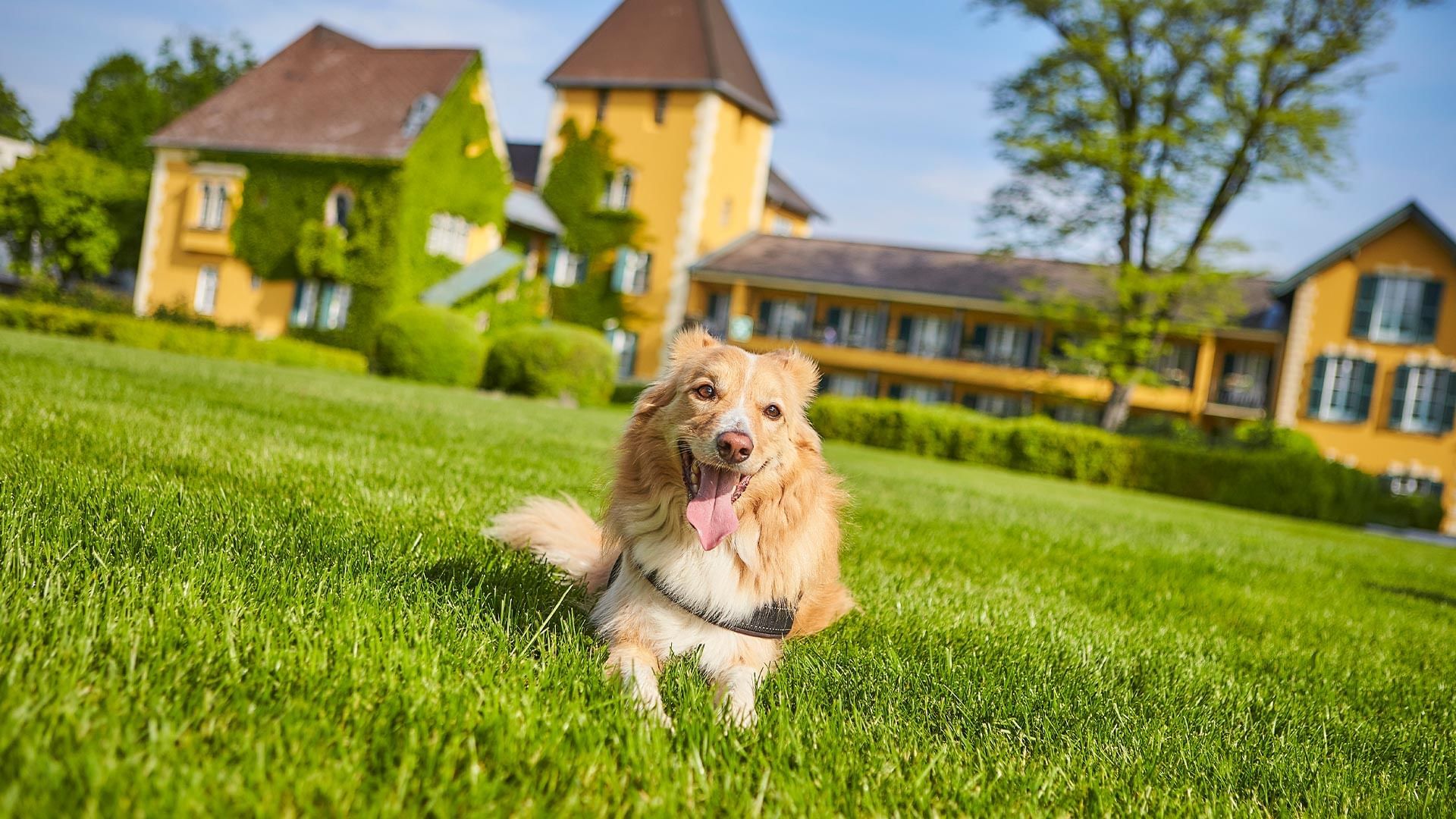 Welcome Dogs at Falkensteiner Schlosshotel Velden!
Holiday with your dog in Carinthia
Vacation is always best when you can spend carefree days in good company without having to worry about anything. As a "Welcome Dogs" hotel, we are not only happy to take care of your needs, but also aim to provide a comfortable time for your four-legged family members at the same time. A feel-good experience for all, woof!
To book with a dog, select the desired travel date and then add the "Welcome Dogs" Extra.
SERVICES FOR HOLIDAYS WITH YOUR DOG At the Schlosshotel
Guest rooms
Lobby
Schlossbar Charly Walker
Seespitz Restaurant & Living
Salons Restaurant & Atelier
Breakfast (at a separate table)
Please stay outside
RULES OF CONDUCT HOTEL
Dogs must always be kept on a leash in the public areas of the hotel.
Forstsee: Dog access into the water
Tierpark Rosegg with labyrinth & castle
Faaker See: Dog access into the water but separate from the one for humans
Hafnersee: Dog access into the water
Saissersee: For a longer tour of a little more than one and a half hours we can highly recommend to walk around the Saissersee!
Römerschlucht: A bit of village, a bit of nature - in just half an hour you can reach the starting point for the Slow.Trail through the Roman Gorge.
Important contacts for your holiday with dog
Sabine Struckl
Upon request and reservation at the reception.Or please feel free to contact our concierge at anytime.
Vets Team Velden am Wörthersee
Fichtenhainstraße 19220 Velden am Wörthersee
Madeleine's Dog Salon
Fichtenhainstraße 29220 Velden am Wörthersee
Melys Dog Styling
Rosegger Str. 79220 Selpritsch
pinkabell.at
High-quality and personalised handcrafted dog accessories, with an exclusive discount for Schlosshotel guests with the code "Schlosshotel".
PERRO Shop Velden
Fichtenhainstraße 29220 Velden am Wörthersee