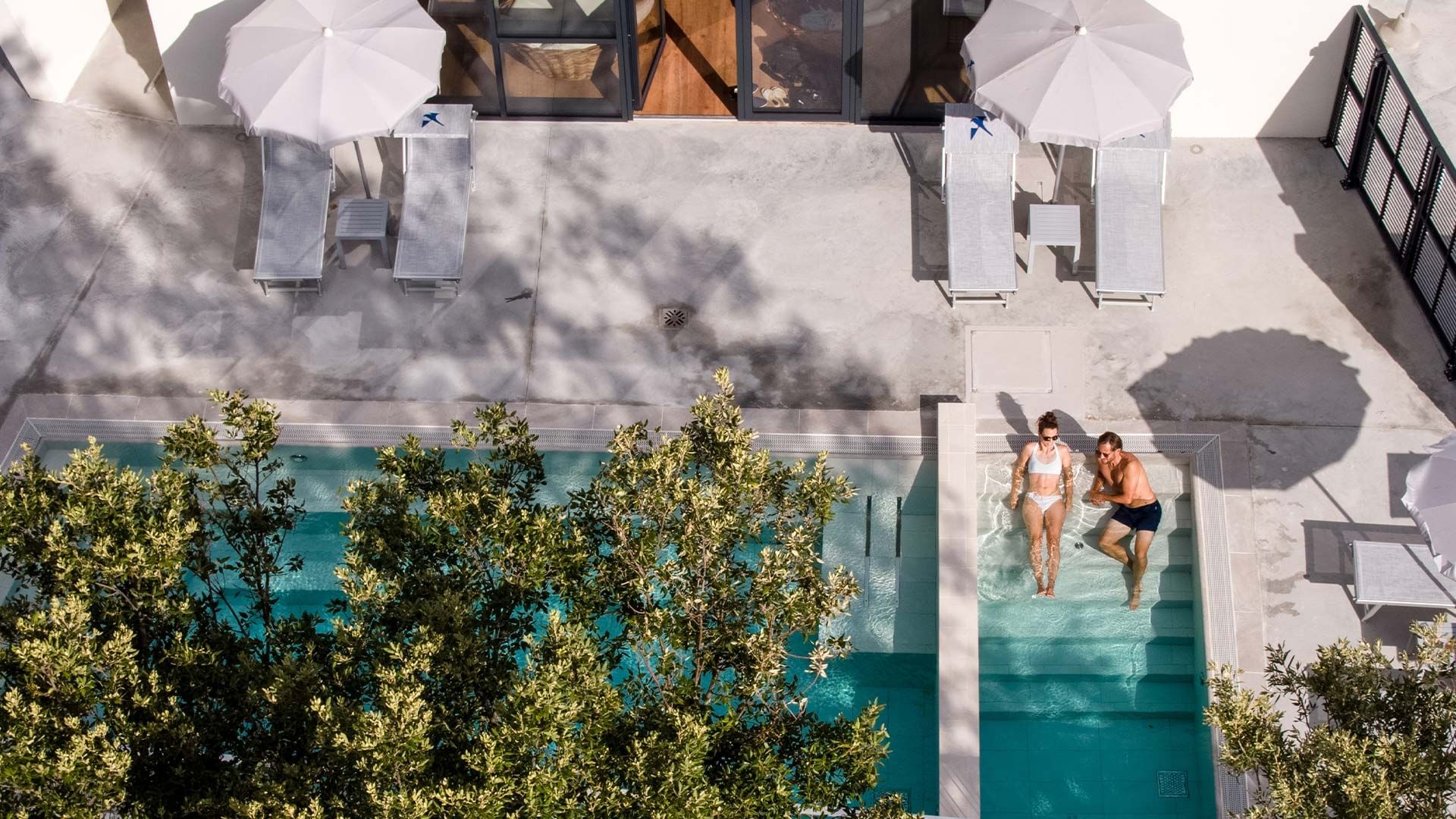 NATURE IN THE HEART OF THE CITY
Discover premium camping in Croatia
With its lush green surroundings and proximity to the sea, our camp provides the ideal balance of tranquillity and convenience. Whether you're looking for a peaceful retreat or an active adventure, our campsite has it all. Explore the nearby historical centre of Zadar with ease or indulge in water activities and relaxation on the beach in front of the camp. Our pitches, mobile and glamping homes offer ultimate comfort, allowing you to fully immerse in the beauty of nature. The camp is filled with a plethora of amenities to enhance your experience, including an exquisite restaurant, convenient shop, invigorating gym and sauna, modern sanitary facilities, a nurturing baby room and a designated play area for children.
Escape the hustle and bustle of city life and find tranquillity at our campsite, nestled in the serene area. Surrounded by pine trees, our camp provides a cool and shaded oasis, perfect for those hot summer days. The lush green surroundings only serve to enhance the charm of this place, creating a sense of serenity and peace for our guests.
Whether you're looking for a peaceful retreat in nature or an active adventure on the seacoast, our campsite offers the perfect balance. With our campsite's idyllic setting, you'll be transported to a world away from the noise and stress of everyday life, immersing yourself in the beauty and tranquillity.
One of the main attractions of our camp is its proximity to the sea. With the beach just a stone's throw away, water activities and relaxation are easily accessible. Whether you prefer to soak up the sun on the sandy shore, take a leisurely walk along the coastline, or engage in thrilling aquatic adventures, our camp provides the perfect setting for it all.
With the sea at your doorstep, you have the freedom to indulge in an invigorating swim whenever your heart desires or unwind with the smells and sounds of the sea, soaking in the captivating views.
Our camp is the perfect combination of tranquillity and convenience, with easy access to the historical centre of Zadar. Connected to the city by a beautiful lungo mare, you can easily reach the centre of Zadar by public transport or take a leisurely walk by the sea. The bus stop is conveniently located right next to the entrance of the camp, making it effortless to explore the city's attractions.
If you prefer a an active exploration of the city, we have got you covered. You can rent bicycles from us and pedal your way to the centre, enjoying the scenic beauty of Zadar on your way.
Experience ultimate comfort in our mobile homes. Indulge in tranquillity as you step into your own stylish haven. Immerse yourself in the beauty of nature on your private outdoor terrace, where you can unwind amidst the serene surroundings. Inside, indulge in a fully equipped kitchen, a cosy living room with enchanting ambient lighting, and a dining area that beckons you to savour moments of togetherness.
As you venture out onto the wide shaded terrace, let your senses embrace the breath-taking views of the untouched natural beauty that envelopes our campsite. Our mobile homes offer all the amenities necessary for a relaxing holiday.
Experience the epitome of glamping luxury nestled amidst the beauty of nature! Immerse yourself in the charm of a classic safari tent, while indulging in the delights of two spacious floors. Discover three individually accessible bedrooms, complete with a separate bathroom and toilet. Delight in a fully equipped kitchenette and a beautifully designed living and dining area, perfect for creating unforgettable memories with loved ones.
Step out onto the two sun-kissed terraces and feel the magic of the outdoors envelop you. Discover the perfect blend of nature and premium style and embark on a glamping adventure like no other!
We understand that no two campers are the same, which is why we offer a variety of pitches to suit every need. If you prefer a spacious pitch with breath-taking sea views, we have just what you're looking for. Picture waking up to the sound of the waves crashing against the shore. The cool breeze gently brushes against your face, rejuvenating your senses. On the other hand, if you desire a more secluded ambiance, surrounded by lush greenery, we have that too. Imagine finding solace amidst nature, feeling the tranquillity around you.
No matter what type of camper you are, we have the perfect spot for you to relax, unwind, and recharge.
Immerse yourself in the refreshing swimming pool. Find serenity on our loungers, basking in the sun while savouring a cool drink. Enjoy a delicious dinner with a view of the sunset in our Amore restaurant or order your breakfast straight to your mobile home. If you seek for a deeper level of relaxation, indulge in a spa treatment or enjoy our sauna that will leave you feeling rejuvenated.
But it's not just about the amenities, it's the experiences that truly set us apart. Take a captivating sunset stroll along the beach or simply unwind with a good book on your pitch and let the serene surroundings lull you into a state of pure relaxation.
With stunning nature and a plethora of activities, our camp offers a perfect playground for thrill-seekers. The campsite features a state-of-the-art gym, so that you can stay in shape and push your limits before embarking on your escapades. Activities range from bike rental, beach volleyball, football and tennis courts with a tennis school, to a water sports centre with boat rentals, banana-boating, parasailing, catamaran sailing, surfing and much more.
The Zadar region boasts breath-taking landscapes - beaches, mountains, and islands. This provides endless opportunities for water sports, hiking, biking, and exploring.
From sports competitions and live music performances to themed parties, movie nights and delightful animation for children, boredom is simply not an option here! Fun is here in every season of the year. That is why we strive to create a diverse and enriching programme that caters to all age groups. Whether it's the vibrant "Sea summer festival" or the exciting "Funtastic Weekends" in spring and autumn, we aim to provide an experience that will leave a lasting impression on our visitors.
And the best thing about camping is the opportunity to connect with like-minded individuals and create lifelong friendships.