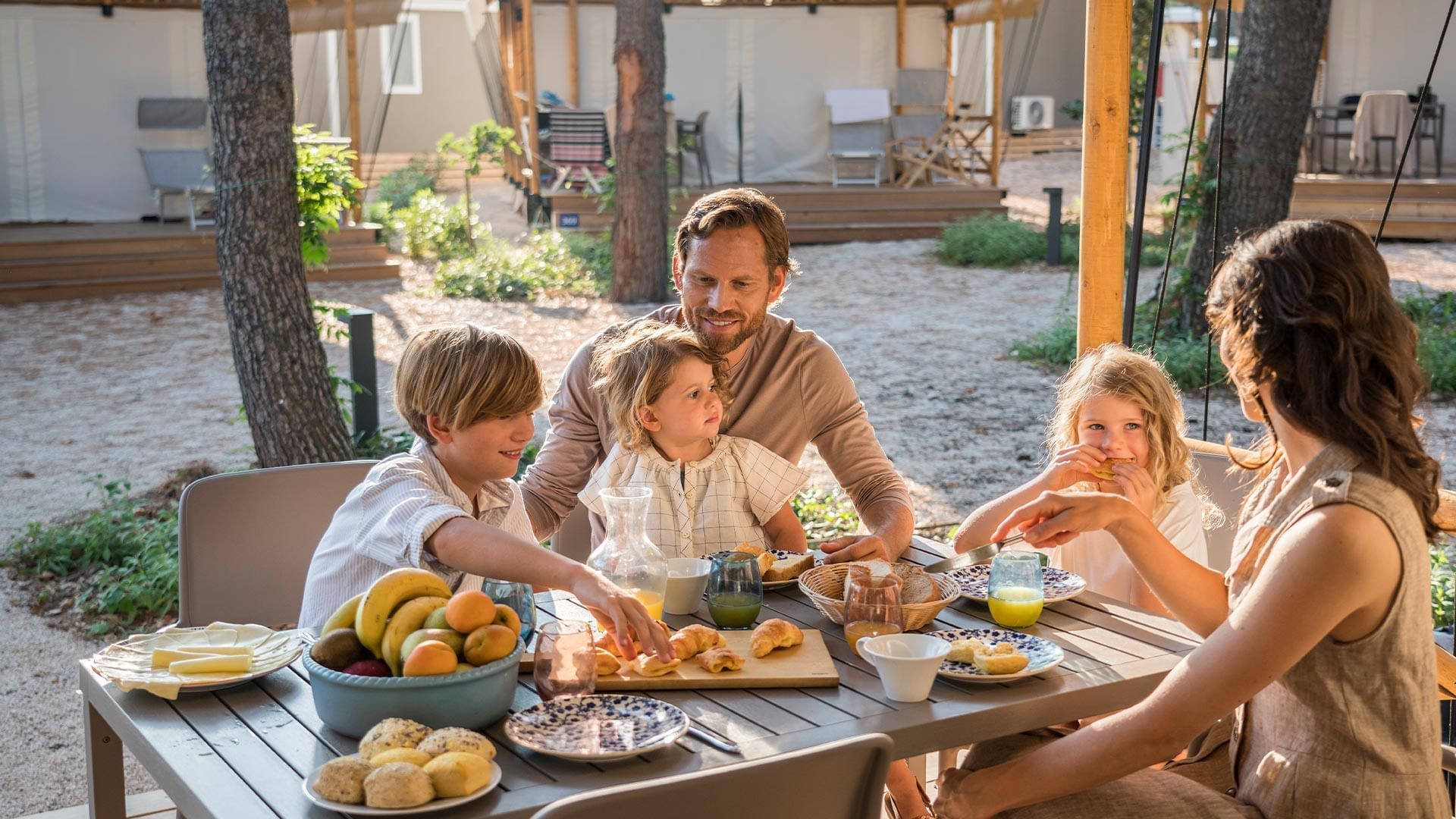 Mediterranean pleasure by the sea
Falkensteiner Camping Zadar offers delicious culinary delights
The sun is slowly sinking behind the glittering Adriatic Sea, you can hear crickets chirping somewhat secluded, a gentle breeze is blowing around the tip of your nose and in your hand you are holding an iced aperitif. Welcome to a special kind of holiday!
Our top-equipped camping facility in Zadar, Croatia, is completely different from ordinary campsites - especially when it comes to culinary delights. Where other places use gas cookers and ready-made meals, we offer our guests a perfect fusion of adventure and comfort. If you wish, you will already be pampered early in the morning, in the form of a rich breakfast buffet. During the day, the pool bar and restaurant are available for light snacks and lunch menus, and in the evening you can feast on an exquisite selection of Mediterranean delicacies, ranging from freshly caught seafood to pasta specialities. Live music and barbecue evenings provide the ultimate holiday feeling in a relaxed mood - that's how we love camping!
Exclusive Á la carte restaurant with all-day cuisine and large terrace overlooking the sea
Breakfast can be booked before arrival
Menu includes 'catch of the day' (fish and seafood), pizza, pasta and homemade cavatelli, salads, grilled meats, cevapčići, homemade desserts, a children's menu and fresh smoothies
Live music with Elena Stella on Wednesdays
Visit to a local winery with Croatian wine tasting
Pool bar with refreshments and cocktails
Modern-Mediterranean cuisine
Indulgence is a priority for us - whether you are in our hotels or at the campsite. In fact, we want to offer you an unforgettable experience here in particular, combining the great luxury of a true feeling of freedom with all the amenities of our brand. Falkensteiner Camping Zadar therefore stands for enjoyment without limits, here you will experience the proximity to the sea up close - also culinary.
Look forward to the most popular traditional Croatian dishes paired with international classics. Sleep in in the morning and then enjoy a fortifying breakfast on the terrace. At lunchtime, when the little hunger pangs kick in, you can choose from an extensive menu and for refreshments you can come straight to the pool bar in your swimming costume. Finally, in the evening, a cool aperitif and a delicious Mediterranean dinner await you in the open air.
Dietary habits Indulgence for all diets
The Falkensteiner Hotels & Residences are geared to cater to the special dietary habits of their guests. Of course, we take your needs into consideration and conjure up delicacies to your taste in our kitchens. Whether vegan or vegetarian diet, gluten-free or low carb - with us you are in good hands with your demands: Morning, noon and evening. Please inform us already in the course of your booking, but in any case shortly before arrival, about your special dietary habits.
Restaurant Amore:
Breakfast 7.30 - 10.30 a.m.
Lunch 1.00 - 4.00 p.m.
Dinner 6.30 - 10.00 p.m.
Pool Bar:
11.30 a.m. - 6.30 p.m.