MEDITERRANEAN CUISINE REINTERPRETED
A culinary journey to the Adriatic coast of Dalmatia
A successful vacation lives from culinary delicacies and tasteful excursions into the traditions of a country. The Croatian cuisine is as diverse as the island state itself and spoils with typical specialties of the respective region. The Falkensteiner Boutiquehotel Adriana is a charming retreat where Mediterranean cuisine enters into an exciting fusion with modern influences. Seasonal ingredients from the immediate surroundings are lovingly processed here to serve our guests authentic Croatian cuisine of the highest quality.
Special extra: Our guests who have arrived with their dog are allowed to take their beloved four-legged friend with them to dinner.
Rich breakfast experience, light lunch at noon & 6-course dinner with selected beverages
Mediterranean cuisine with seasonal ingredients from the immediate surroundings
Live cooking at the Ofyrgrille
Dogs can be taken to the terrace during meals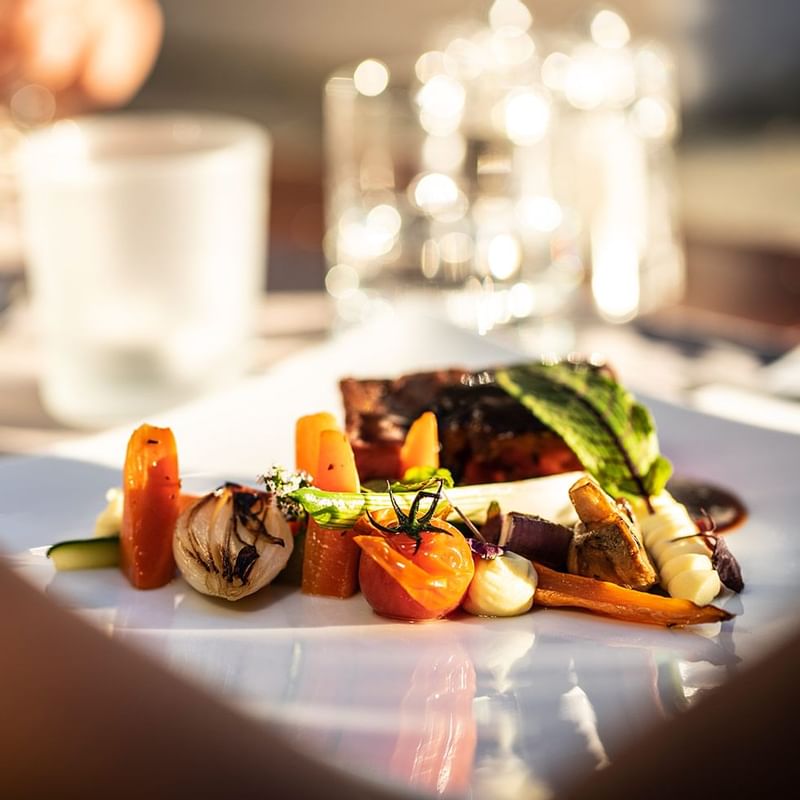 Enjoyment.Inclusiv Arrangement
A perfect vacation day begins with a rich breakfast experience that leaves no culinary wishes unfulfilled. Until eleven o'clock we spoil you with regional delicacies of the season, so that you can start well-rested, full and happy towards the beach.
After an extensive relaxation under the Croatian sun, your workout or a discovery tour in the surrounding nature, our light lunch offers the perfect refreshment for hot days. Salads, soups and other light dishes await you at the buffet.
The 6-course dinner in the evening finally represents the culinary highlight of your vacation day: varied Mediterranean dishes are freshly prepared for you and provide tasty moments of pleasure. A selected range of non-alcoholic beverages as well as quality wines and beer are included in this package.

Dietary habits
Indulgence for all diets
The Falkensteiner Hotels & Residences are geared to cater to the special dietary habits of their guests. Of course, we take your needs into consideration and conjure up delicacies to your taste in our kitchens. Whether vegan or vegetarian diet, gluten-free or low carb - with us you are in good hands with your demands: Morning, noon and evening. Please inform us already in the course of your booking, but in any case shortly before arrival, about your special dietary habits.
Breakfast
from 7.00 am to 11.00 am
Light Lunch
from 1.00 pm to 3.00 pm
Dinner
from 7.00 pm until 10.00 pm
Adriana Bar
from 8.00 am to 12.00 am
Pool Bar
from 11.00 am to 6.00 pm