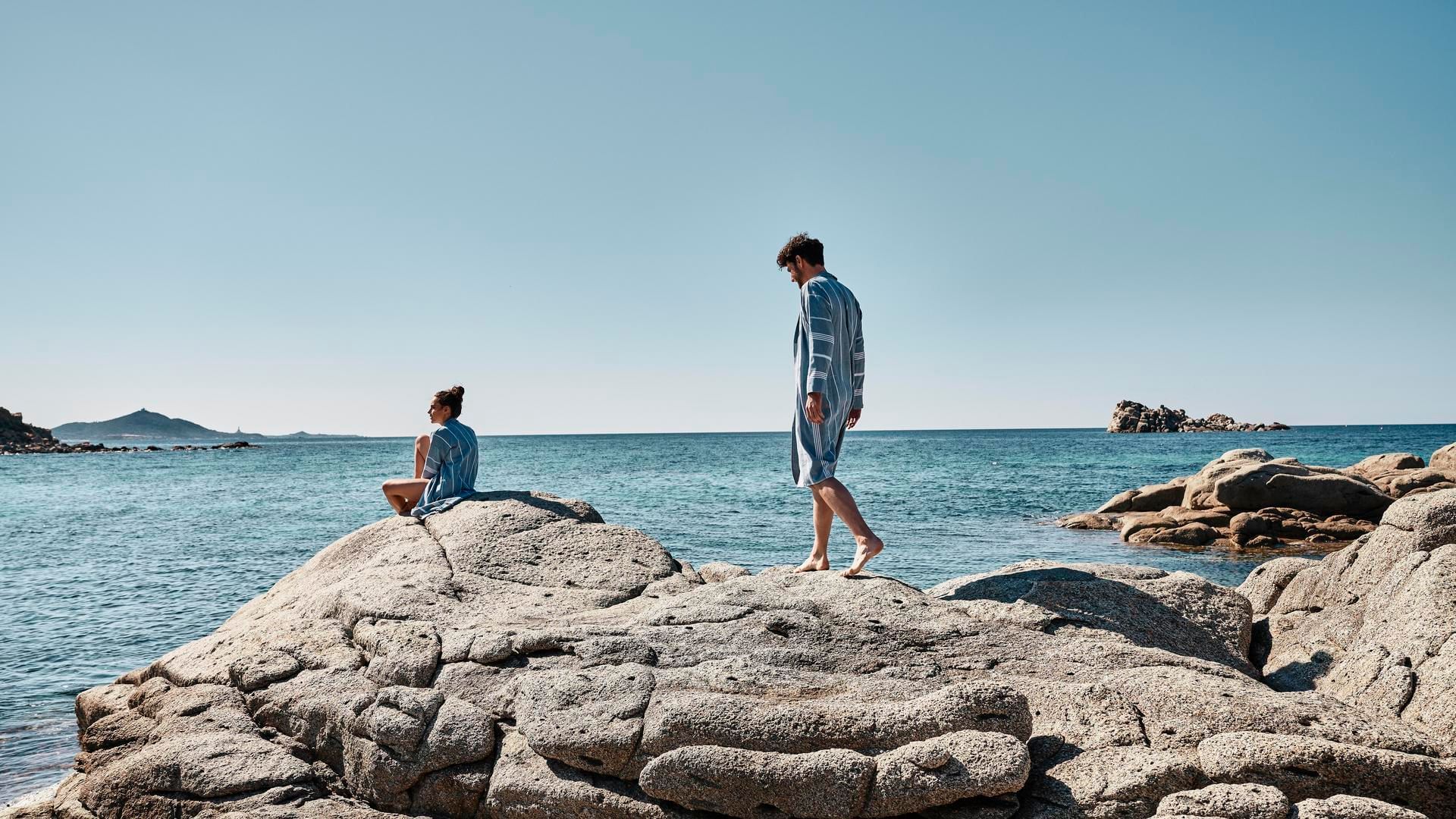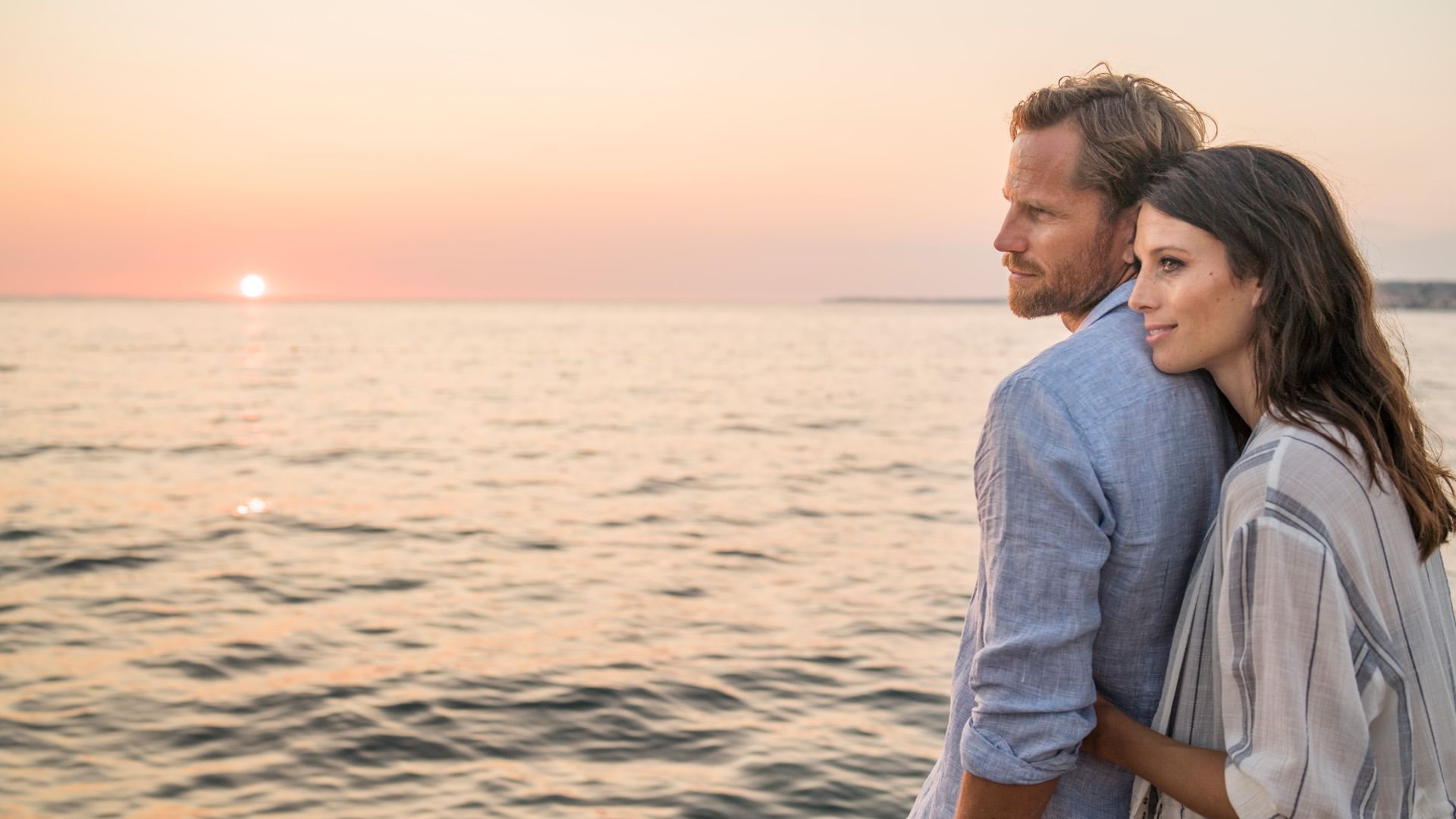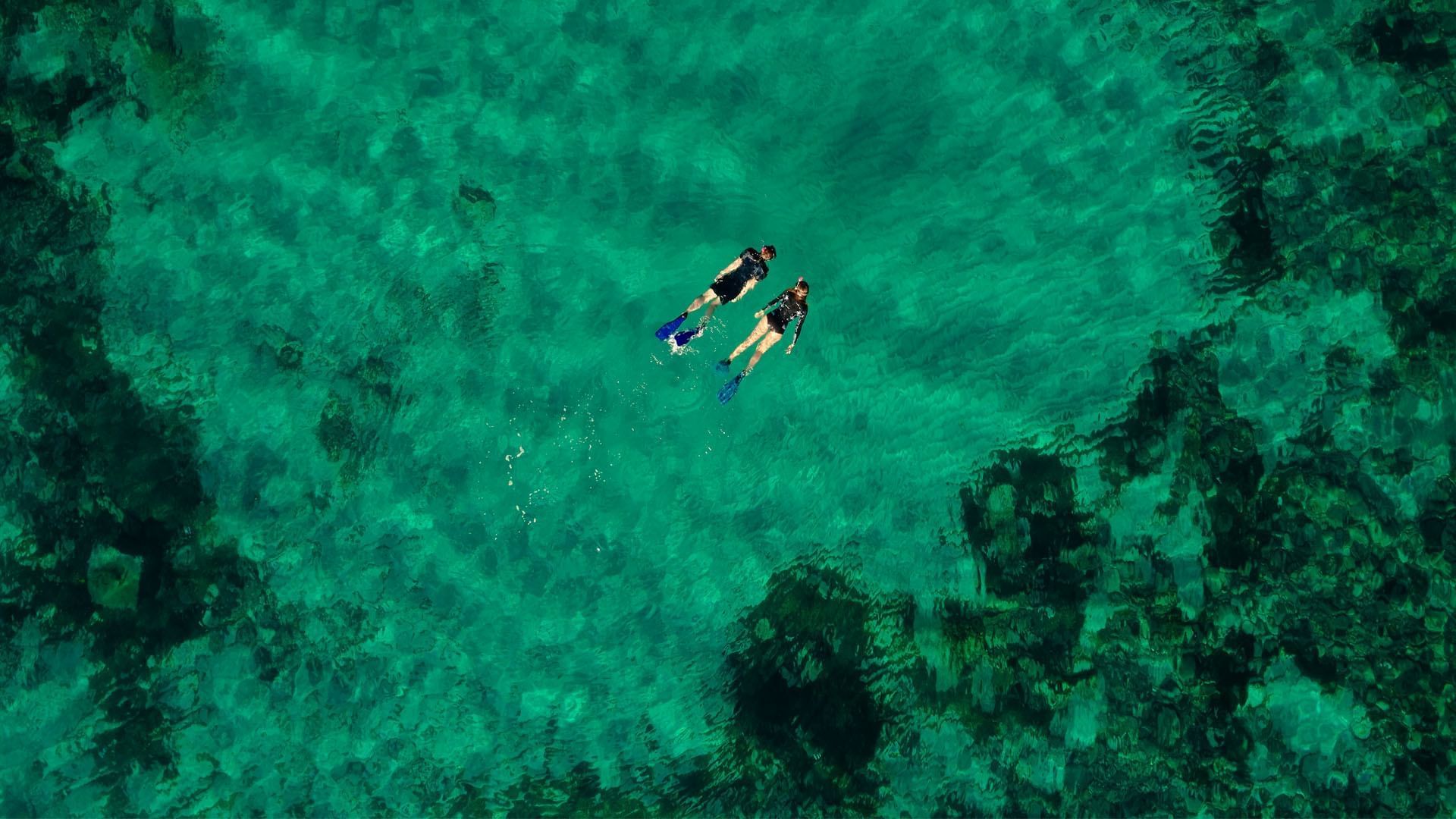 Experience moments together on the Mediterranean Adriatic coast
EXPERIENCE. ENJOY. LIVE.
Spend a decelerating vacation as a couple and forget about everyday life. Relax and explore the region and choose from a wealth of activities offered around the Mediterranean destination. Our boutique hotel with well-being service is the ideal starting point for your vacation, which can be freely designed and adapted to your needs. Whether you long for deep relaxation by the sea, want to walk in the footsteps of the Croatian culture of pleasure or actively experience adventure - our attentive team at the hotel will provide you with local insider tips and will be happy to help you realize your experiences. In this way, special moments for two will become memories that you will take home as the most precious souvenir.
Immerse yourself together in the spirit of the Mediterranean region of Dalmatia and embark on a multifaceted journey through local specialties. Explore the area and let yourself be carried away by the vibrant atmosphere of the old town of Zadar or enjoy breathtaking views of the vast sea, picturesque coastlines and mountains. Set amidst national parks yet right on the beach, the hotel offers plenty of opportunities to get active on land or on the water.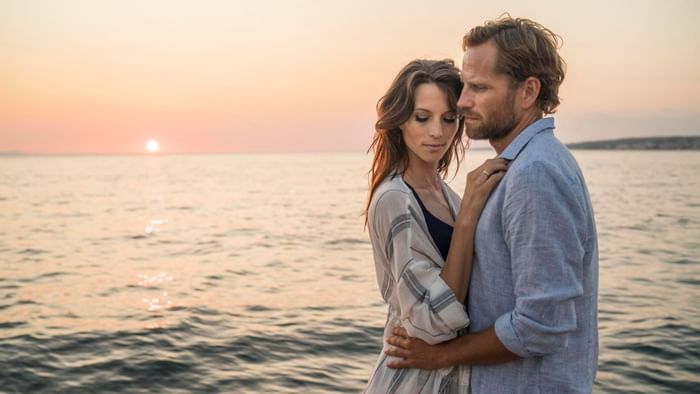 Urban Vibes
Explore the historic old town flair together
The narrow streets of Zadar tell a long story that is still evident. In addition to cobblestones, small houses and imposing buildings, the old town can score points especially with its lively hustle and bustle and infectious flair. Take in the surroundings while strolling by foot or taking a short spin on a Vespa or cabriolet. Visit local events and explore small towns that have been designated UNESCO World Heritage Sites - Croatia's urban side also has a lot to offer vacationers.

Nature Escape
Discover the beauty of the region
Walk along the coast together, stroll past the harbor and recharge your batteries at the sight of the turquoise sea with its crystal clear waters. Soak up the Mediterranean atmosphere of the surrounding nature and explore the region's various national parks. The scenic diversity includes the beautiful Adriatic Sea with different beaches and karstic rock formations, as well as mountains, waterfalls, fragrant trees and herbs, olive groves and vineyards. An excursion into nature will re-inspire the mind and really sharpen your senses.

Vibrant Seaside
Experience a variety of activities on the water
The Mediterranean Sea offers a wide range of sporting activities, which can be described more as a wild and fun discovery tour than as a work out. Stand up paddling in harmony with the water, kayaking along the coast or snorkeling and diving under the surface of the water to discover a paradise hidden from many. Island hopping, exploring small islands by boat, or a relaxing sailing trip to secluded beaches promise new impressions of the Adriatic and bathe your experience in a new light - not only at sunset. You can't get any closer to maritime adventures.

Get Active
Get sporty together
If you don't just like to lie on your back while on vacation, but also need physical balance in the form of exercise, you can look forward to a wide range of sporting activities on offer around the hotel. Running routes along the coast and yoga classes in the spacious garden have a positive effect on body and mind. In addition, tennis courts can be used and bicycles borrowed at the neighboring Falkensteiner Club Funimation Borik. From exploring the region on two wheels to guided work outs - varied exercise options for your fitness are not missed out.

Besides the sea with its many bays, the Dalmatian landscape also has mountains and beautiful waterfalls to offer. Discover some of the most exciting excursion destinations we would like to recommend to you: A guided tour to Saharun beach, a boat trip to the Croatian islands, a speedboat tour or boat trip to Kornati National Park, a trip to Krka or Plitvice National Parks, a private boat trip to Saharun & Zverinac beach, a private sailing tour with basic sailing course, etc.
If you are one of those people who can't imagine a morning without running, or are looking for relaxing, romantic walks with a view of the most beautiful sunset on the island, then we can recommend the perfect route. Whether in a running outfit or with ice cream in hand - we have the right route for all needs and every fitness level. Our service team at the reception will be happy to advise you.
The Mediterranean garden surrounding the Falkensteiner Hotel Adriana is the heart of our charming boutique hotel. That is why we want to give our guests as much time here as possible. Some prefer relaxed sunbathing, while others prefer to be active. With group workouts, you'll start the week in an energetic way: Exercise with us in the garden on Mondays, feeling vital and satisfied. Well-deserved relaxation awaits you afterwards!
An ideal opportunity for tennis fans. Enjoy the charms of your favourite sport in a relaxed holiday atmosphere. For an additional charge, you can book a tennis court, equipment or lessons with trained coaches directly with us at the hotel. You choose the suitable date and your company, we take care of the rest!
Enjoyment has many facets and can be experienced in different ways - preferably, of course, in pairs. Embark on a culinary journey and discover typical local specialties, stimulate your mind while contemplating beautiful buildings and architectural aesthetics, or relax with spa treatments and consciously concentrate on being in our hideaway. Live in the moment!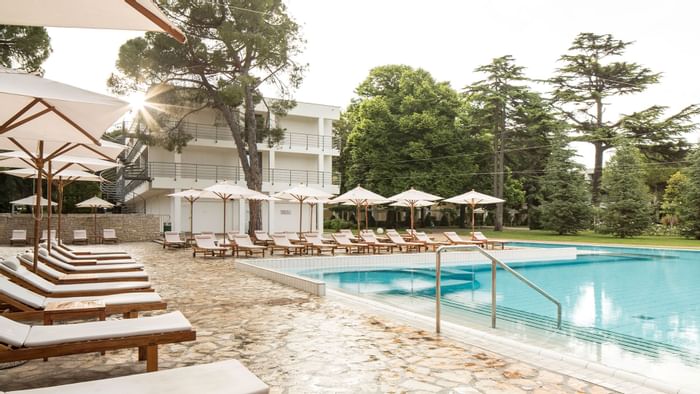 Culinary Experiences
On the trail of regional delights
Dalmatia has a wealth of delicacies to offer, just waiting for you to try them. Traditional specialties and local products may be tasted to your heart's content. Whether it's winemaking or olive harvesting - take a look behind the scenes right where the action is or enjoy a picnic prepared by us in idyllic, less frequented places

PRIVATE DINNER IN THE GARDEN
What about an exclusive private dinner in our beautiful Mediterranean hotel garden? Enjoy a particularly romantic arrangement for two, lovingly prepared for you by our team. Unforgettable moments in the soft light of torches, accompanied by rose petals and a gentle sea breeze, are crowned by the culinary delights of our kitchen team.
Feel like you are in a movie scene amidst the flowery backdrop of our hotel. Choose your favourite spot in our garden and enjoy a picnic for two that our team has prepared for you. In your picnic basket you will find delicious snacks, fruit and prosecco - everything that is essential for a culinary treat in our little oasis.
Join our rollicking evenings with live music, have fun and relax with a sundowner and our live band in the background. The later the evening, the more danceable the beats!
On Fridays, our management team will keep you company with a cocktail - accompanied by tasty snacks and nice conversations.
Pure Wellbeing
Relax in a hideaway on the Mediterranean
Those who take time out from stressful everyday life often long for relaxation and renewed energy. With us, you may pamper yourself from head to toe and enjoy individual spa treatments in the middle of the beautiful garden. In addition to these soothing treatments in the Spa Tent, you also get access to the Acquapura Thalasso & SPA Center in the neighboring Falkensteiner Club Funimation Borik for the entire duration of your stay. Twice a week, a late-night spa exclusively for adults takes place here, and there is also the option of booking a separate private spa for two.

Especially on holiday, we deserve to be pampered. Spoil yourself with the relaxing effects of spa treatments in a special place, our enchanting garden. Enjoy a massage for two in the shade of our spa pavilion in the fragrant Mediterranean garden and experience relaxing moments that you will remember fondly.
With its boutique charm and hideaway character, the Falkensteiner Hotel Adriana favors experiencing wonderful vacation moments in intimate togetherness. Let disturbing thoughts go and just be. Enjoy peace and comfort with us, pay attention to inner needs and let our courteous staff assist you in fulfilling them. Let the beauty of the destination take effect on you and collect unforgettable memories together.