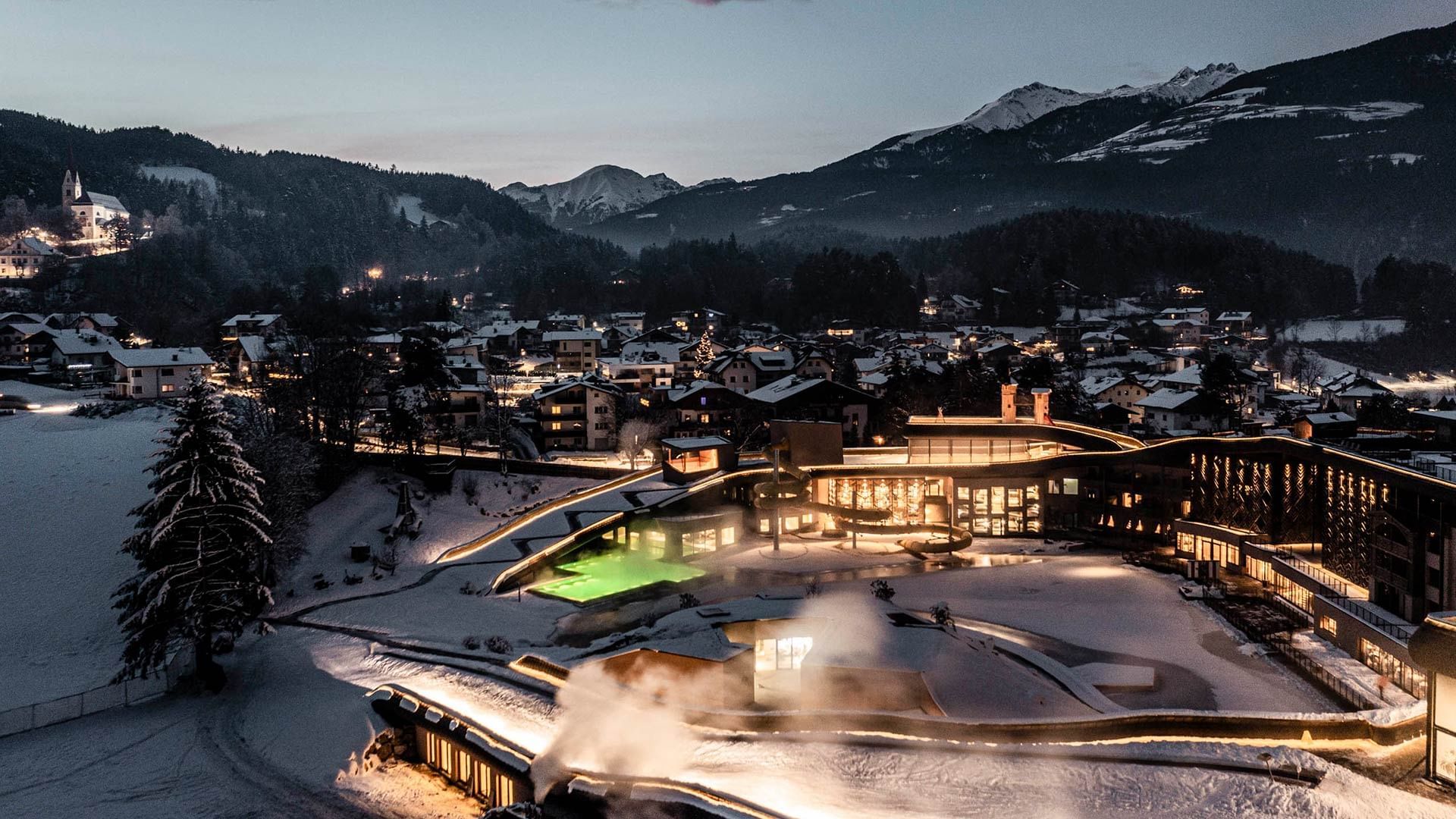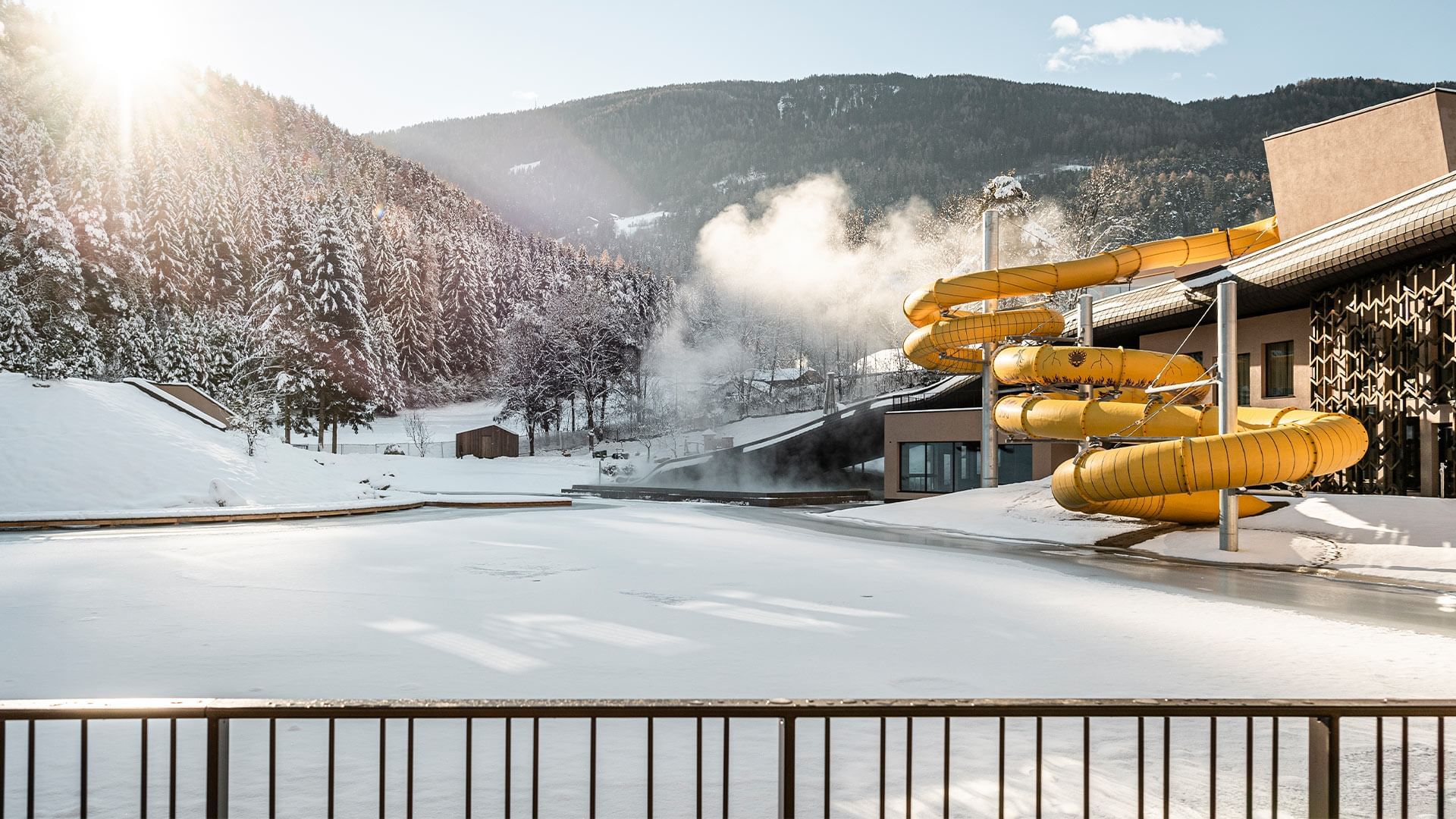 SOUTH TYROL'S TOP CLASS ADVENTURE HOTEL
Unique in Europa
Welcome to the new top family resort in South Tyrol. With our completely renovated Family Resort Lido in Val Pusteria, we are setting new standards and trends: experiences, adventure, sport and fun for the whole family - everything has been redefined, taken to the next level and integrated within breathtaking architecture. What you and your children will experience with us is unrivalled. Simply because it is new and undreamt of and until recently seemed almost impossible to realise. Come and experience the ultimate in fun, adventure & action in an unprecedented dimension. Your children will be impressed and you yourself will be content and satisfied. Because at the end of the day, if everyone is happy, then the holiday is a success. Be it a short weekend trip or an annual holiday with the family. We look forward to seeing you!
ROOFTOP SKY
ADVENTURE PARK
Why not give something completely new a go? Some have a pool on the roof - we, on the other hand, have the Sky Adventure Park. And from here the largest indoor water slide leads to the newly designed water world down below, which connects our private natural lake to the sandy beach and infinity pool. But now back to the roof: here you can ski all year round, play football, basketball and hockey. Here you can also find the jogging trail and bobby cars racing against the odds. There is a Valo Jump, an observatory and a great viewing platform. All in all, true to the motto "the sky is the limit".
THE COOLEST HOTEL POOL COMPLEX INCLUDING A NATURAL LAKE
Excited giggles and laughter, butterflies in your stomach, sparkling eyes. We know what makes a fantastic family holiday in South Tyrol. And we know how to exceed your expectations and more importantly, those of your children: with our new water world and Europe's largest indoor slide in a hotel as well as a high-speed water slide with timer for ultimate racing fun, a large heated outdoor infinity pool and our natural lake complete with sandy beach and chill out zone. All this together with our relaxing Acquapura Spa covers an area of 2,800m² and promises endless water fun and family wellness in South Tyrol.
Another unique highlight of our Sky Adventure Park is waiting to be conquered: by young and old, by beginners and experts. Our ski slope is approx. 150m long and consists of its own synthetic surface, which can be skied all year round. The feeling and the skiing behaviour are identical to a ski slope with snow. That's a promise! For beginners, there are ski courses with your own ski instructor and our hotel ski rental is open all year round. However, you are welcome to use your own skis or snowboard.
Want to be a superhero or superheroine yourself? No problem! In our unique and interactive trampoline world, everyone becomes the centre of the game.
Jumping upwards through treetops, clouds and small islands or defending sand castles here everyone becomes a superhero.
As the only hotel in Italy, we are looking forward to making this children's dream come true.