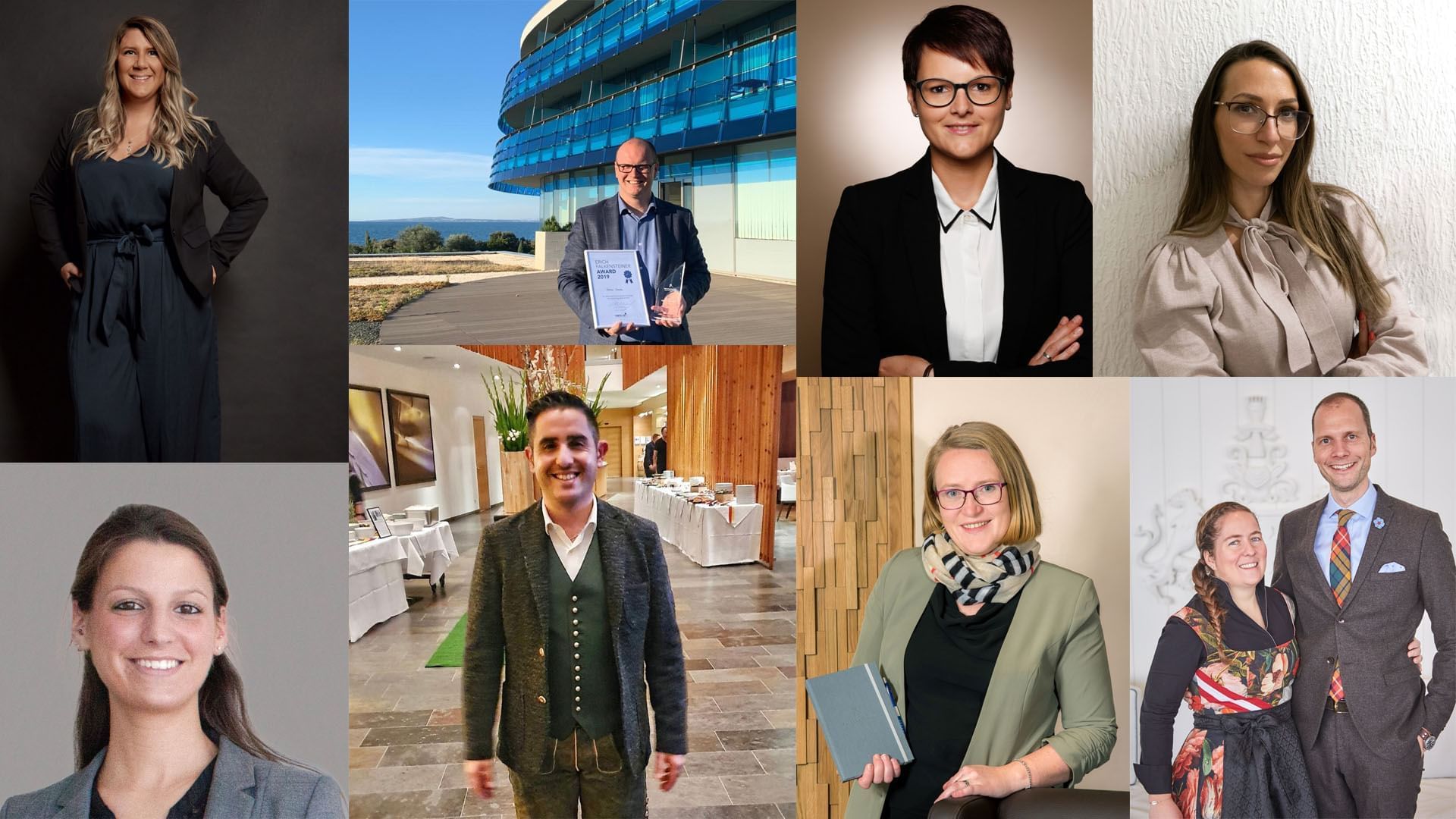 Success Stories at Falkensteiner
To help you imagine a possible career path at Falkensteiner, some Falkensteiner family members will give away some details. Get some inspiration and come to know some colleagues from the hotels and offices.
Bettina Schroll
SPA Manager
Bettina Schroll is SPA Manager at Falkensteiner Hotel & Spa Bad Leonfelden.
The variety! Thanks to numerous training and development programs at Falkensteiner, I love being able to work in such a wide range of areas.
From sauna master & fitness trainer to spa manager. I wanted a job without responsibility and, above all, fun at work. After a short time, the position of Spa Receptionist became available and I got to explore this area. I was supported by my GM and our company all the time and was allowed to attend some trainings. Thus, I constantly got to know and love new fields of activity. In my entire professional career, I have never met a company that believed in me and supported me like this. I was totally overwhelmed when, after only two years in the company, I was offered the position of Spa Manager. This was three years ago. The responsibility has changed somewhat, but the fun has remained. Meanwhile, there is not only a great cooperation in Bad Leonfelden, but also a close connection with all other Falkensteiner spas and an excellent quality team. It's simply fun not just to go to work every day, but also to have gained a big family as an employee.
Karin Wieser
Resident Manager
My name is Karin Wieser and I work as resident manager at the Falkensteiner Hotel Cristallo on Katschberg.
The coolest thing about my job is meeting people every day. Whether guests or employees - no day is like the other, there is a new task every day to provide our guests an unforgettable vacation in our house. Above all, I really appreciate the cooperation with my team!
My first day of work at Hotel Cristallo was July 25, 2006 as a masseuse in our spa area. Actually, I only wanted to cover the summer season and then complete further training in Graz. From "just one summer" it has now been almost 15 years. Since I enjoyed working in the spa area very much and the continuing trainings were also possible alongside the job, I decided to stay for the winter season as well. After the following summer season, the former director Georg Unterkircher gave me the chance to get a taste of the reception area. I was accepted for the summer season after a three-day "trial period" and so my career at the reception began. From receptionist to Front Office Manager, further to Rooms Division Manager with the main task of reception, housekeeping, spa and animation - in the meantime I was also allowed to try my hand in the F&B area and was responsible for the monthly inventories, accounting and the entire ordering process for the hotel for about two years. Through the many training opportunities in our Falkensteiner Academy, we employees get the chance to develop and work our way up with motivation, loyalty and consistency. Since January 2018, I have now been working as a resident manager at the hotel. My main task as hostess and deputy hotel manager fulfills me completely and I continue to look forward to many beautiful and inspiring encounters with guests and employees.
Sabrina Regner
Director of Guest Engagement & Reservation Management
My name is Sabrina Regner and I am in charge of the Guest Engagement & Reservation Management department, i.e. the front office and reservations. My team consists of almost 50 employees, a large part of which is our Falkensteiner Guest Engagement Center (GEC) in Zadar. The GEC acts as a central call center and is responsible for the reservation agendas of Falkensteiner hotels. Together with my team in Vienna, it is not only our task to develop uniform standards and pass them on to the employees accordingly, but also to simplify or optimize operational processes and procedures. The top priority is always to optimize quality in the area of front office & reservations, so that our guests become loyal regulars and the slogan "Welcome Home" is lived. Of course, this goes hand in hand with increasing efficiency and productivity, so that guest contact as well as advice and support always have top priority.
Definitely the variety and the fact that it never gets boring. Variety because my team and I are responsible for many different topics and enormously exciting projects also arise due to technological progress and the fast pace of life. Not to forget the travel, because for me personally there is nothing better than working with people - different regions, cultures and hotel products are my biggest motivators.
In July 2007, I started my career at Falkensteiner - in the reservation department of the then two Viennese hotels, where I moved to the sales department after two years of reservation & banqueting to gain further experience. After that, I was a Resident Manager, which gave me an excellent knowledge of the operational hotel business. At the end of 2012, I moved to the Head Office Vienna, where I am still working. After working in the areas of online marketing/sales, revenue management as well as systems for a good two years, I came back to my roots and got the chance to further develop a central reservation, at that time responsible for two resorts in Croatia. It was an extremely exciting time, as we not only completely rebuilt the operational process, but also the systems and infrastructure area. After two years with 100% focus on the reservation area, my area of responsibility expanded with the technical management of the front office department within Falkensteiner Hotels & Residences. Since the end of 2018, I have been leading the Guest Engagement & Reservation Management area and I am very proud to lead such a great team, consisting of motivated and loyal employees, and to have been a Falky for over 13 years.
Stephanie Poller
Head of Marketing
My name is Stephanie Poller and my business card says Head of Marketing. Here at the headquarter Vienna, I am specifically responsible for the strategic brand development and positioning of our more than 30 hotels in 7 countries. Together with my great team, I am responsible for communicating the Falkensteiner brand and the associated vacation experiences to existing and future guests via the right channels, with the right offer and the right creative idea.
What I particularly like about my job is the variety between strategic concept development, creative tasks like brainstorming sessions and campaign planning, but also classic project management and juggling excel sheets. I myself love to travel and through my work I can combine my passion for it with my enthusiasm for advertising. After all, we "sell" positive vacation experiences and the emotions associated with them, not just vacations or an offer. The coolest part is definitely that you have a lot of options in our marketing department. From idea development, shootings and video productions to the final implementation and staging on the website, on TV, or via print ads. All these projects are largely planned and implemented in-house. This is not necessarily common in the industry and is what sets us apart. In most companies and corporations, such exciting projects are handled by external, international agencies.
Experience, passion, perseverance & patience. Already during my school education as well as during my Marketing & Sales studies at the FHWien of WKW, I tried to gain as much practical experience as possible in various industries and areas in order to learn marketing and advertising from scratch. Over the last 12 years, I have gained more and more responsibility in a national and international environment and have been able to develop my hard and soft skills - from intern to assistant, to junior manager, then to manager, and from 2015 to senior manager with team responsibility. Since 2018, I have been leading my motivated and ambitious team as Head of Marketing at Falkensteiner. My professional career started at one of Vienna's largest advertising agencies and then took me to an international luxury perfumery company, Marionnaud Parfumeries. In 2011, I switched to the FMCG industry and worked there in the following years in large, market-leading corporations in various marketing positions, both nationally and internationally. At Unilever and CP-Gaba, I managed and successfully developed global brands such as Knorr, Palmolive, elmex and meridol. In September 2016, I started at Falkensteiner in the headquarters in Vienna.