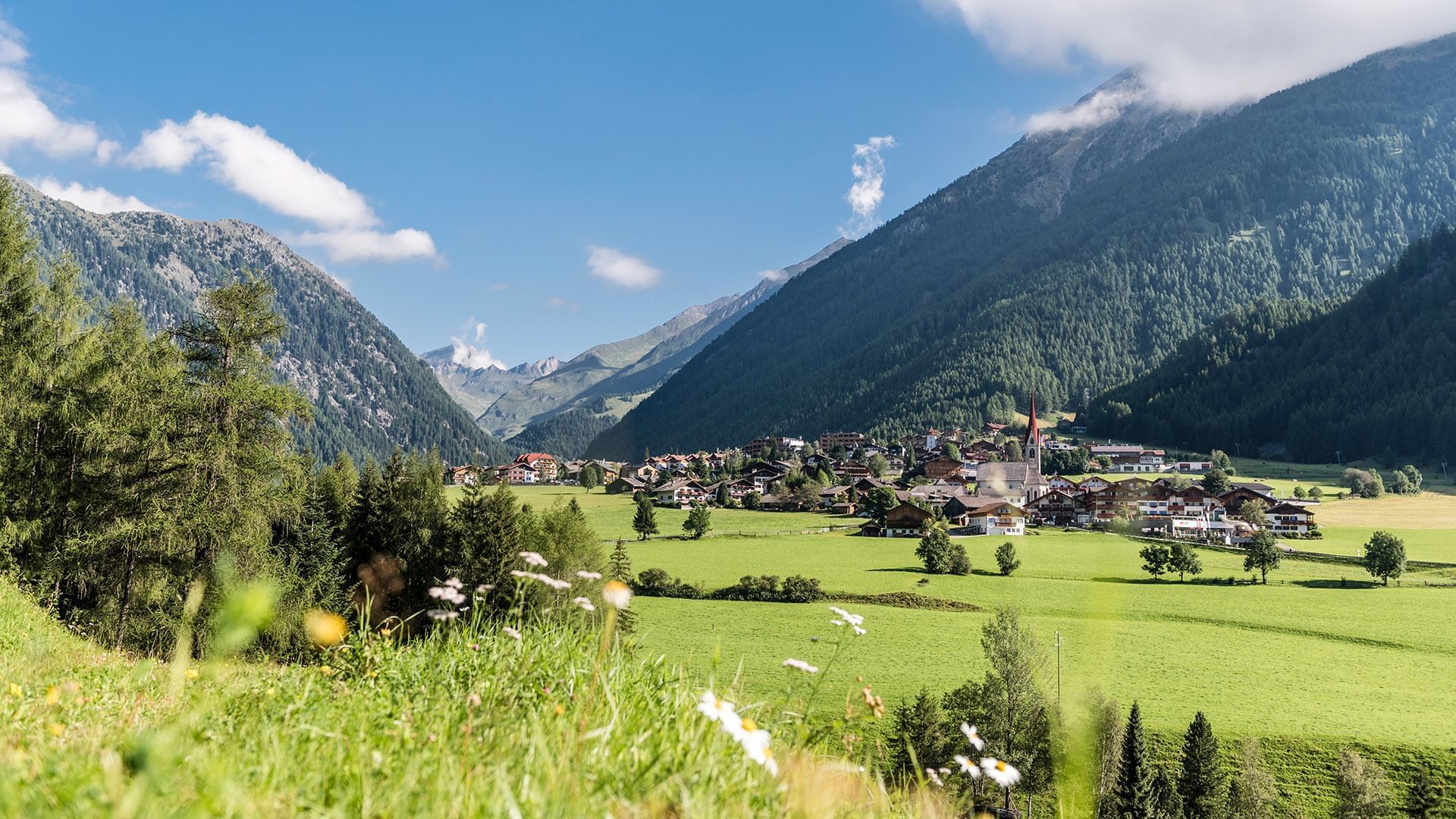 EXPERIENCE THE BEST OF SOUTH TYROL
Active gourmet holidays at the Falkensteinerhof in Valles
South Tyrol is diversity. Mountains and valleys, Alpine and Mediterranean, hiking and biking, snowshoeing and skiing, history and future, town and country, Aperol Spritz and Lagrein to mention a few. And the best thing about it: You can enjoy all of these during your holiday with us at the Falkensteinerhof in the Gitschberg-Jochtal Alpine hiking region. Welcome - Benvenuto!
What would a South Tyrolean holiday be without a lunchtime visit to a mountain hut? They say it's not the destination but rather the journey that counts when hiking through South Tyrol's breathtaking natural landscape. But you also need a milestone, don't you? A simple lunch in a rustic Alpine hut is a must if you want to embrace South Tyrol to the max. Schlutzkrapfen (Tyrolean style filled pasta pockets), goulash and Kaiserschmarrn (sugared pancake with raisins) taste best here, regardless of whether you eat in the cosy wood-panelled dining-room or on the sun terrace. Mmmmhhhh, simply delicious.
Brunico, Bressanone, Bolzano, Merano. The choice is yours. One city more charming than the other and yet they all have a lot in common: an enchanting old town, historic arcades, boutiques, gourmet shops, cafes, bars and small restaurants, wonderful squares and winding streets. Take a stroll and enjoy!
Welcome to the land of palaces and castles and of course to Ötzi and Reinhold Messner's homeland. But it doesn't stop there! As a melting pot of two cultures, there is without a doubt a lot more to see and experience here. Museums, markets, festivals and events - the cultural offering is enormous! We would be happy to inform you about current exhibitions and festivities.
SAVOUR SOUTH TYROL
Sustainable and craving adventure
The unique location of our 4-star hotel gives you countless opportunities to explore and fully appreciate South Tyrol. On arrival, you will receive the AlmencardPlus, which enables you to leave your car at the hotel and use all the lifts and public transport in the Gitschberg-Jochtal holiday region free of charge. To reach the mountains or a nearby charming town, for hiking or for strolling. Discover the region and its people, its culture and cuisine - whatever your mood!
Experience nature in Valle Isarco and Val Pusteria. Our Falkensteinerhof is the perfect starting point. Head off on foot from the hotel and take the cable car into the Jochtal. From there, either continue on foot to the enchanting Malga Fane and the "Big Five" or choose from a variety of exciting themed hikes and many other excursion destinations. Our Alpine world is unique in South Tyrol and impresses with its vastness, originality and not forgetting its breathtaking views.
Do you prefer insider tips and guided hikes? If you'd like nothing better, then our hiking guides offer guided tours several times a week: from family hikes to select summit tours. And don't forget you can borrow the necessary hiking equipment from us at the hotel.
Would you prefer to explore the South Tyrolean mountains by bike rather than on foot? Well then, let's go! Our hotel has e-bikes to rent and needless to say there are charging stations available for your own e-bike. Unlimited freedom awaits: our Gitschberg-Jochtal holiday region has great routes and trails for every level. Be it to the Alpe di Rodengo, one of the most beautiful high plateaus in South Tyrol, along the Val Pusteria cycle path or the area in and around Rio di Pusteria.