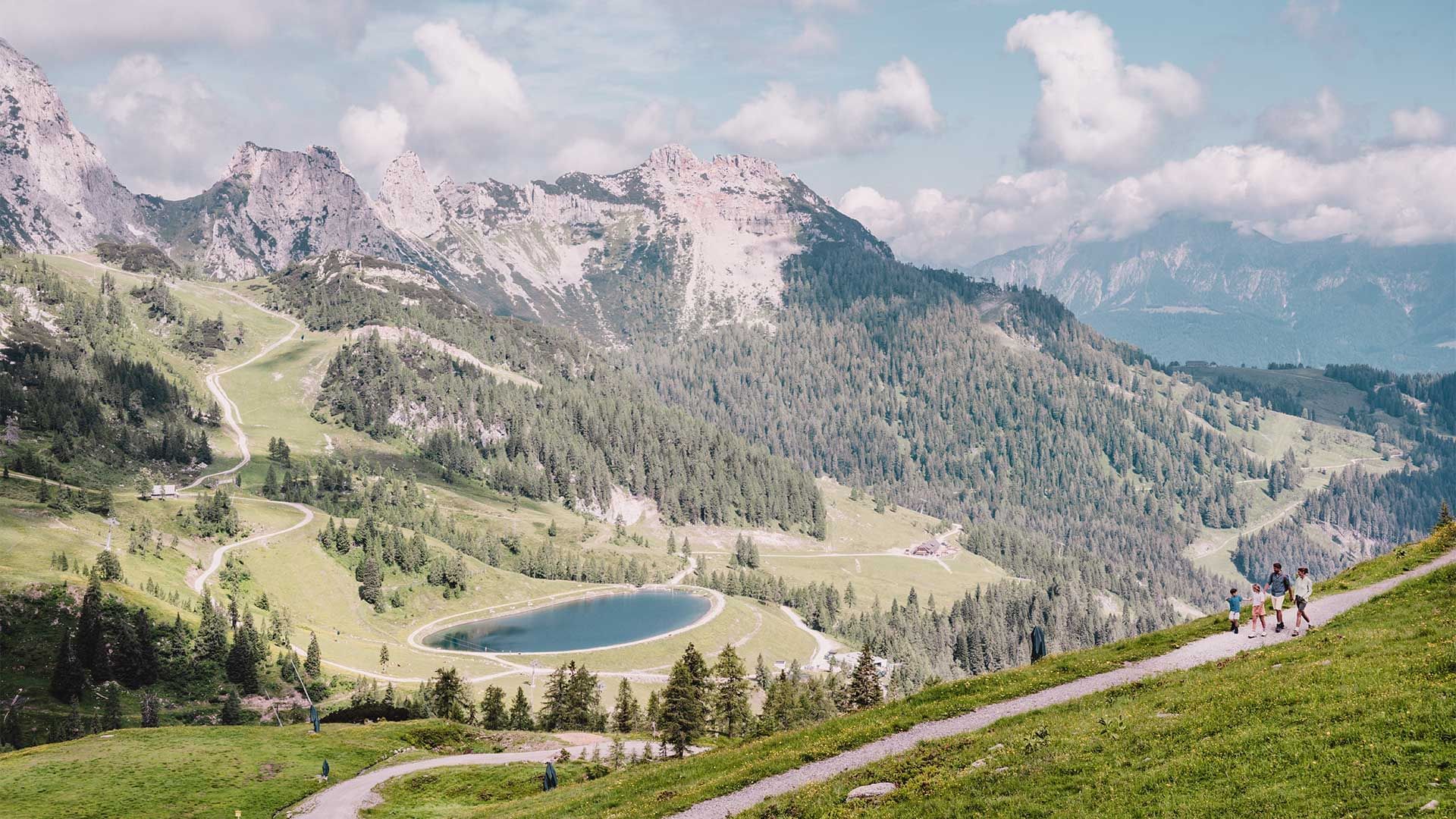 Experience the Nassfeld region
A holiday in the mountains - just the way you like it
Idyllic landscapes, wonderful panoramas, fresh mountain air and you in the middle of it all! Hiking in the immediate vicinity of the hotel really clears your head, the sight of lush meadows and massive peaks invites you to dream. Don't waste a thought on everyday life and linger contentedly in the moment.
If your holiday dreams are made of more adventurous stuff, the Nassfeld region offers a variety of experiences and sports that will provide you with fun and adrenaline. Those seeking relaxation will unwind holistically in the spa, while those interested in culture will find inspiration in Carinthian museums or on excursions to neighbouring Italy. We give you memories for the whole family, prepare a wonderful time for you as a couple and are happy to help with programme suggestions for your individual interests.

The abundance of possibilities in the Nassfeld region is enormous. At every turn - or rather, behind every crossing - there is something exciting to explore. Nature itself is full of wonderful surprises just waiting to be discovered by you. Trails, summits and walking paths for families can be found here, as well as excursion destinations worth seeing that give an insight into local traditions, history or animal realms.
Slow Trail: The 6 km long circular trail around Lake Pressegg leads past various resting and recharging places, making it a real energy booster in addition to the magnificent views of the water and the Carnic & Gailtal Alps.
Aquatrail: On this 1.5 km family hiking trail, which is suitable for prams, kids are introduced to the element of water in a playful way. Rest areas, adventure stations and a lake promise a varied day on the alp.
Terra Mystica' exhibition mine: In the tunnel system of the Bad Bleiberg ore mountain there is a lot to discover on 1,300 km. Young and old can experience fun and adventure here, for example on the tree slide down to the shaft lift.
Sonnenalpe for adventurers
Those who like it sporty and adventurous benefit in summer from activities such as climbing, biking, water sports in the Gailtal & at Lake Pressegg as well as fast quad tours. There are also action-packed attractions in the Hermagor region that are true highlights for families and all those who have kept their inner child at heart.
Almschaukel Dondolo: The unique combination of fun, adrenaline and an incomparable view makes the Almschaukel something very special. Three power levels let you determine your own level of action - from leisurely to somersault.
Pendolino summer toboggan run: Carinthia's longest summer toboggan run leads 2 km down the mountain. Thanks to the speed, it's especially adventurous in the curves!
Outdoor Park Nassfeld: The Outdoor Park Nassfeld offers all-round action and adventure for young and old. Look forward to a forest rope park, flying fox, 3D archery and much more!
Sonnenalpe for water rats
Although our hotel offers a wonderful spa area including Aqua World, Carinthia really demands a visit to the numerous natural bodies of water in summer. Not only the drinking water quality of the lakes and rivers is convincing - in many places there are lidos, excursion destinations and water sports opportunities around the shores.
Action-packed water sports: Rafting & canyoning offer adrenalin and lots of fun. Boredom is definitely not an option as you slide down gorges or feel the power of the water in a boat.
Lake Pressegg: Clear water with a temperature of up to 28 degrees makes Lake Pressegg a popular bathing place for little mermaids and big swimming fans. Embedded in the beautiful nature, playgrounds 'in the realm of the lake witch', a grass maze and Carinthia's first adventure park invite you to let off steam.
Weissensee: This natural jewel is worth the 50-minute drive by car! The fjord-like lake with turquoise water and many bathing bays offers water sports such as diving, wakeboarding or cliff jumping, as well as various hiking trails around the lake and several boat landing stages.
Sonnenalpe for those interested in culture
If you want to do something for your mind and broaden your horizons in addition to the tranquillity of nature, sporting programmes and relaxing time in the spa, the Nassfeld region offers a wide range of excursion destinations that impart culture and provide new inspiration.
Thanks to the hotel's location in the border triangle, you will discover different landscapes as well as cultural features - from alpine to Mediterranean - in no time at all, and experience the influences of our neighbouring countries in a culinary sense as well.
Mountain holiday meets city trip: The Italian city of Udine, located in the heart of Friuli, is perfect for a day trip. Sightseeing in the charming old town and shopping tours through small boutiques or the outlet centre are only 1h 20min by car from the hotel.
GailtålBauer Kirchbach: The experience farm and gourmet shop establishes a connection to country life and the origin of the products. The GailtålBauer brings visitors closer to old traditions through a farm tour, show dairy, petting zoo, farm shop and much more.
Gailtaler Museum: Located in Mödendorf Castle, the Gailtaler Museum offers the opportunity to discover historical traces as well as to marvel at Georg Essl's collections.
Geopark Carnic Alps: This excursion destination takes its visitors into a world that existed long before our time. Various geo trails bear witness to exciting traces of the past and even a dinosaur world is waiting to be explored in the Geopark in Dellach.
Whether with horsepower or without - biking is more popular than ever! Nassfeld offers a variety of routes for cycling and motorbike enthusiasts, some of which even cross the border into neighbouring Italy or Slovenia. Those who do not want to travel with their own bikes can borrow various models (also e-bikes) on site. Enjoy the exercise in front of a beautiful panorama!
Family biking: If you are on holiday in the Nassfeld region with sporty (already somewhat older) children, you should not miss the Family Bike tours. You will definitely not get bored here, quite the opposite! Fun and exertion go hand in hand - perfect for a worthwhile excursion.
Trail World: Get on the saddle and off you go, down the mountain! In the World of Mountains & Lakes, numerous trails of various degrees of difficulty await you. Helpful tips and tricks are available on request in the course of bike guiding.
Motorcycling in the Nassfeld-Pressegger See adventure region: Lean into the curves, feel the wind and savour the feeling of pure freedom. Many varied routes let you really enjoy the power of your motorbike! Trips across the border with cosy stops at vantage points and traditional eateries make your holiday with the bike something special.
Sonnenalpe for connoisseurs
Couples, friends and solo holidaymakers can also enjoy a wonderful break away from the family programme at the Falkensteiner Hotel Sonnenalpe. Enjoy the tranquillity of nature and really savour the benefits of the location in the hiking and skiing area. Treat yourself to a soothing break from everyday life and indulge in individual treatments at the Acquapura SPA. High-quality culinary delights will enchant your taste buds in the unique Slow Food Travel Destination.
Slow Food Travel: Local producers, small gourmet manufactories, organic farming and products made according to old traditions - be there live when regional delicacies are produced. In many places, guests can not only watch, but even participate themselves. Of course, tastings are the order of the day!
Carriage rides & horseback riding: Let nature take its effect on you without getting active yourself? That's possible on a relaxing horse-drawn carriage ride through the beautiful countryside. If you prefer to get up on a horse, you can simply swap the carriage for the saddle!
Fishing: The many clear waters of the region also offer passionate anglers wonderful places for their hobby. Tranquillity, idyllic scenery and lots of fish make your trip perfect? Then there is only one thing left to say: Petri Heil!